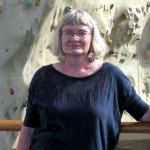 Irene is a Saskatchewan-based artist, and has spent some time in B.C. and Alberta.
Education in Arts: Classes at the University of Saskatchewan, workshops, art retreats, personal training with watercolour expert Donna Goodman, watching YouTube demonstrations and reading and looking at art books.
Art Groups: The Saturday Morning Workshop, Art Quest, Saskatchewan Craft Council, Carfac and Artists of Canada.
Creative Pursuits: I have done Art work for a Lioness Cookbook, Photo in 2006 CWRA Calendar, Quilts, Wall hangings, Sculpture, and Paintings.
Art Mediums: Pencil, chalk, pastel, watercolor, acrylic and oils and found material are some of the mediums I presently use.
Art Subjects: Landscapes, flowers, animals, people and abstracts.
Shows: I have participated in many group shows including the Mendel Member Show, Chapel Gallery, Gardenscape, Ex, Boy's and Girl's Club, Scyap, and J & S picture frame warehouse, Clay Studio, Credit Union, Hillcrest Gardens, etc..
Prizes: 1st place in the Race Relations contest in 2003, several 1st places at the Ex over the years plus best of show 2012 for multicultural art.
I am interested in making the ordinary extraordinary and discovering new possibilities with different mediums. I am presently working on more abstract works working with collage and mixed media. I enjoy being with fellow artists always going forward with new ideas and methods to try. I find it invaluable to the growing process to see other artist's works and techniques.