November 20, 1934 — May 12, 2018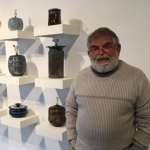 In addition to being a ceramics artist of renown, Jack Sures helped teach two generations of Saskatchewan ceramic artists. He joined the University of Saskatchewan, Regina Campus (later the University of Regina) in 1965 to establish the ceramics and printmaking department. In 1969, he became the Chair of the Department of Visual Arts. Under his leadership, the Regina Campus of the University of Saskatchewan established a world reputation for excellence in ceramics.
Jack Sures' major public work includes a 2,900 square foot mural for the Sturdy Stone Centre in Saskatoon, a terrazzo floor for the Wascana Rehabilitation Centre in Regina, and a mural for the Canadian Museum of Civilization in Ottawa. He was a member of the Order of Canada and was awarded the Saskatchewan Order of Merit. In 2017, Sures received the Saskatchewan Arts Board Lieutenant Governor's Lifetime Achievement Award and was also the 2018 recipient of the Saidye Bronfman Award for Excellence in the Fine Crafts from Canada Council for the Arts.
In addition to helping foster ceramics in Saskatchewan, Jack Sures worked for the United Nations Handcraft Development Program to set up a ceramics program in Grenada – during which time he engineered a kiln that could use nutmeg shells as its fuel.
Gallery Representation:
SCC Fine Craft Boutique, Saskatoon, SK
Slate Fine Art Gallery, Regina, SK
Canadian Clay & Glass Gallery, Waterloo, ON