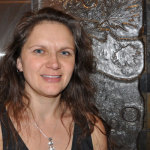 Jacqueline Berting was born in 1967 in St. Gregor, Saskatchewan. She attended Red Deer College from 1986 to 1987 and Sheridan College in Oakville, Ontario from 1987 to 1990, where she majored in Glass. Jacky studied Iron Art and Blacksmithing at Penland School of Craft in North Carolina, in 1990. She has been working as an artist has been the owner of Berting Glass Ltd for over 20 years and presently resides in Cupar, Saskatchewan. Together with her husband James Clark, Berting Glass has a showroom and workshop on their acreage there.
In 1992, Berting Glass was established after the unveiling of the Glass Wheatfield, a salute to farmers, encompassing 14,000 waist high glass wheat stalks. Once unveiled in the Mackenzie Art Gallery Meadow, people from all over the country were requesting a smaller version, a symbol of the grand project, and their heritage. Through the generous support she has received, she is able to employee people from the community and set up a hot glass studio.
Jacqueline supplies glass gifts to over 70 gift shops and galleries across Canada, as well as creates one of a kind art works, designs awards, commissions, and installations which can be viewed on www.bertingglass.com. These glass gifts have been presented to dignitaries, celebrities, delegates, members of the Royal Family, the President of the Ukraine, and NHL Stars. They are a unique gift which have become the perfect symbol of Saskatchewan.
Jacqueline donates to countless charities and fundraisers across Canada and received a Medal of Honor in 2005 for her contribution to Saskatchewan through her art, as well as a Celebration of the Arts Award.
CONTACT
Berting Glass Ltd