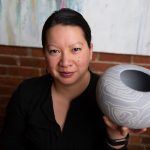 Janet Ng is a potter and a Professional Craftperson member of the SCC. Being fortunate to spend a lot of time outdoors and looking at maps, Janet's pottery is inspired by landscapes, running water, and big skies. Her work is mostly functional and translates landscapes into ceramics for every day life.  
Janet Ng has a Ph.D. in science and works in wildlife biology. She has experience working in the non-profit sector, as well as volunteering on local and national boards.
Janet would like find ways to support Saskatchewan's diverse and creative craft community. Saskatchewan has a long history of craft and supporting makers will make Saskatchewan's identity, history, and culture stronger. As craft transforms, it is an exciting time to finding new ways to support makers finding new ideas and edges to push.