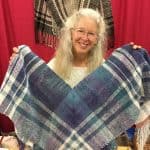 I am a weaver, spinner, knitter of fine textiles, and a shepherd. My cloth has been exhibited, and has received awards, in various gallery and touring shows, and fibre competitions.
The pleasures involved in doing all the processes to craft a beautiful functional piece of cloth, are important to me. Making cloth reflects my life values and choices: local materials; skilled hand work; personal creativity; making a true living rooted in my land; embracing simplicity; making clothing of enduring style.
I don't always do all the processes for everything I make, but when I do, they have soul and life in them. Pieces made from scratch have more interesting stories.
Craft, for me, is about a handful of my sheep's wool becoming wonderful cloth through my mind and hands — carrying joy, love, and spirit all the way through.
Gallery representation:
SCC Fine Craft Boutique, Saskatoon, SK
Hand Wave Gallery, Meacham, SK