Dimensions
Dimensions is the Saskatchewan Craft Council's biennial, open, juried, touring exhibition which encourages and rewards excellence in hand-crafted work.
Exhibition
May 26 – August 28, 2021
Saskatchewan Craft Council Gallery, 813 Broadway Ave, Saskatoon, SK
In response to the COVID-19 pandemic, Dimensions 2021 jurying was an online experience. While the SCC has always prioritized in-person jurying for this project, the health and safety of the jurors, SCC staff, and the nearly 150 artists who enter Dimensions are of our utmost concern. The Dimensions 2021 exhibition will be installed at the Saskatchewan Craft Council Gallery from May 26 to August 28, 2021, before beginning a multi-city tour.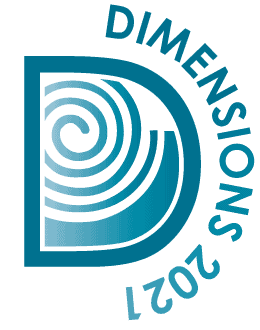 Awards
Tuesday, June 29, 7 pm
ONLINE 
This year we hosted a virtual celebration of the selection of each piece in the Dimensions 2021 exhibition, as well as experienced the exciting announcement of nearly $12,000 worth of sponsored awards. This event was be hosted online, thanks to help from our friends at Bamboo Shoots.
Juror David Freeman and SCC Exhibitions Coordinator Maia Stark hosted the online presentation of such prestigious awards as the Gale Steck Memorial Award for Excellence in Craft from an Emerging Artist; the Jane Turnbull Evans Award for Innovation in Craft; and the top prize, the Dimensions 2021 Award for the Outstanding Entry.
Tour Itinerary
May 26 – August 28, 2021 – Saskatchewan Craft Council Gallery
January – February, 2022 – Humboldt and District Gallery
March – April, 2022 – Weyburn Arts Council
May 6 – June 30, 2022 – Saint John Arts Centre
October – December, 2022 – Lloydminster Cultural & Science Centre
*Other venues to be announced. Dates may be subject to changes.
Jurors' Talks & Critique
Two experienced jurors are tasked with selecting the pieces for the exhibition, as well as deciding which pieces merit the many available awards. Each of our jurors will be giving a virtual talk about their personal art practice, and will together give a critique about their Dimensions 2021 Online jurying process.
Jurors' Critique
Please join jurors David Freeman and Jane Kidd for an overview of the jury process and thoughts about the works for Dimensions 2021 Online, followed by questions from the audience. The critique session by the jurors is open to all.
Juror's Talk – David Freeman
David has custom built exquisite musical instruments since 1980, training emerging luthiers since 1986. He builds with traditional & alternative woods, researching new sound concepts, drawing from various Masters. Acoustic design and structure are important, working with the subtleties of sound board thicknesses, bracing, mass, stiffness and wood types to develop different sounds. In addition to traditional pearl inlays, David has used agate, jade, jewels, and silver in his instruments. He has used both stone and metal as stand-alone carvings and jewelry pieces. David operates a private vocational school in musical instrument construction in Tugaske, Saskatchewan.
Juror's Talk – "Woven Tapestry" with Jane Kidd
In this presentation, Jane will focus on her recent work and interest in weaving tapestries that encourage consideration of our relationship to the natural world. Along the way, Jane will reference some of the research interests that have fueled her art practice for over 40 years and share her commitment to the value of skillful handwork and her passion for colour, pattern and detail. Jane currently lives on Salt Spring Island in British Columbia. Her work is to be found in private and public collections including the Canada Council Art Bank, the Department of Foreign Affairs, the Alberta Art Foundation, and The Canadian Museum of History. In 2016, she was awarded the Saidye Bronfman Award, a Governor General's Award for Visual and Media Arts, Canada's foremost distinction for excellence in the visual arts.
History
Dimensions first came into being in the late 1970s when the Mayor of Battleford, Alex Dillabough, lobbied the Government of Saskatchewan for promotional assistance linking craft and the tourism industry. Exhibitions were organized by the Saskatchewan Department of Industry and Commerce in conjunction with the Saskatchewan Handcraft Festival. The newly formed Saskatchewan Craft Council provided a jury for one of these exhibitions in 1976, and the first Premier's Prize was awarded in 1977. From those beginnings, until 2009, Dimensions was presented annually. In 2011, it became a biennial exhibition and is still the only open, juried, touring exhibition of contemporary craft in the province.
Every two years all Saskatchewan craftspeople are eligible to submit up to two hand-crafted items. Two experienced jurors are tasked with selecting the pieces for the exhibition, as well as deciding which pieces merit the many available awards. Dimensions is one of the few juried exhibitions where the jurors select from the physical piece, rather than photographs of works, allowing for a more nuanced and considerate selection. A public critique session follows the final selection, and allows entrants to ask the Jurors question about the jurying process and receive feedback. The ongoing success of Dimensions depends upon the generous support of a number of organizations including the City of Saskatoon and Creative Saskatchewan. The award sponsors also make a substantial contribution to Dimensions, each focusing on a different intent or media. The SCC acknowledges the contributions of these sponsors and greatly appreciates their ongoing commitment.