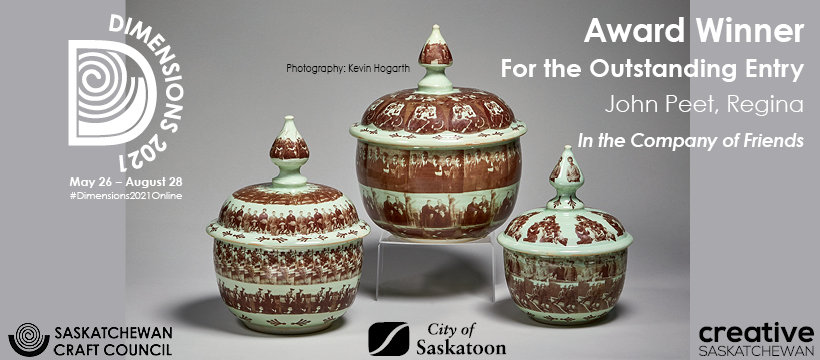 Dimensions 2021
Group Exhibition
Exhibition Dates: May 26, 2021 - August 28, 2021
Dimensions is the Saskatchewan Craft Council's biennial, open, juried, touring exhibition which encourages and rewards excellence in hand-crafted work.
In response to the COVID-19 pandemic, Dimensions 2021 jurying was an online experience. While the SCC has always prioritized in-person jurying for this project, the health and safety of the jurors, SCC staff, and the nearly 150 artists who enter Dimensions was of our utmost concern. The Dimensions 2021 exhibition is installed at the Saskatchewan Craft Council Gallery from May 26 to August 28, 2021, before beginning a multi-city tour.
This year we hosted a virtual celebration of the selection of each piece in the Dimensions 2021 exhibition, as well as experienced the exciting announcement of nearly $12,000 worth of sponsored awards. This event was hosted online, thanks to help from our friends at Bamboo Shoots.
Juror David Freeman and SCC Exhibitions Coordinator Maia Stark hosted the online presentation of such prestigious awards as the Gale Steck Memorial Award for Excellence in Craft from an Emerging Artist; the Jane Turnbull Evans Award for Innovation in Craft; and the top prize, the Dimensions 2021 Award for the Outstanding Entry.
Check out the full list of Award Winners here.
Sign our Virtual Guest Book
Tour Itinerary
May 26 – August 28, 2021 – Saskatchewan Craft Council Gallery, SK
January – February, 2022 – Humboldt and District Gallery, Humboldt, SK
March – April, 2022 – Weyburn Arts Council, Weyburn, SK
May 6 – June 30, 2022 – Saint John Arts Centre, Saint John, NB
October – December, 2022 – Lloydminster Cultural & Science Centre, Lloydminster, SK
*Other venues to be announced. Dates may be subject to changes.
The Saskatchewan Craft Council was honoured to work with the expert jurors for Dimensions 2021 Online: David Freeman and Jane Kidd.
Two experienced jurors were tasked with selecting the pieces for the exhibition, as well as deciding which pieces merit the many available awards. Each juror provided a virtual talk about their personal craft practice, as well as provided a virtual critique and discussion about the Dimensions 2021 Online jurying process.
Watch Juror's Critique Here
Watch David Freeman's Talk Here
Watch Jane Kidd's Talk Here
Read about the History of Dimensions Here