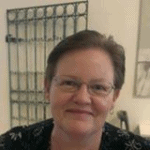 Born in Outlook Saskatchewan and raised on a wheat and cattle farm, I am a self-taught artist who learned hand stitching at a very young age. The prairie has been the biggest influence on my art career. As a child of the 60's and 70's. I have many memories of walking trails along the river bank and through various pastures and fields. The smell of the land with all it's greenery and trees remains with me to this day. I vividly remember what it was like to be dropped off in the middle of a field on summer days, along with my siblings, to pick rocks out of the plowing for the afternoon, which then of course had to be loaded into the back of the truck and unloaded onto the rock pile in our farm yard.
Over the years my art has gone from traditional forms of embroidery to textiles ranging from abstract and geometrical designs to colorful little folk art landscapes. In 2008 while care giving for my mother on our family farm, the landscapes came into being. I chose burlap fabric for a base, partly because it reminded me of the prairie's earthiness and then added layers of silk, wool and hand painted threads from all over the world which symbolizes our population. The skies are hand stitched with single strand embroidery cotton and represent Saskatchewan's "land of living skies" theme which is displayed on our license plates. The needle felting is used in order to build up a base for the hand embroidery which adds more texture and colour. In 2016 I decided to finish the 2008 landscapes into mini wall hangings and then began working on new pieces.
In 2015 I became a juried member with the Saskatchewan Craft Council.
Gallery Representation:
SCC Fine Craft Boutique, Saskatoon, SK