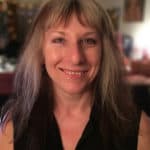 Melody Armstrong is an internationally recognized contemporary jewellery artist based in Regina, Saskatchewan, Canada. She earned a Bachelor of Fine Arts Degree majoring in Jewellery and Metals from the Alberta College of Art and Design, graduating with Distinction in 1999. Working with traditional and non-traditional metals, enamels and stones Armstrong's Industrial-Organic aesthetic combines abstraction with a truth to materials that reflects both her attention to detail and quality of workmanship. Armstrong delights with her use of contrasts in surface treatments to highlight the elements she has imposed throughout the metal. Vitreous Enamel, anodized metals, or gemstones creates bursts of colour and reflection while the patina oxidizes much of the metallic surfaces, providing a sense of distress, corrosion and age.
As a juried member of the Saskatchewan Craft Council, Armstrong's work has been recognized in numerous competitions including: Dimensions 2008, 2011, 2015 and 2019; and internationally in the Lewton-Brain Foldform International Competitions 2012, 2015 and 2018. Armstrong's work has been published internationally, recently featured in New Rings 500+ Designs From Around the World by Nicolas Estrada (Thames and Hudson, 2016) and Art Jewelry Today 4 by Sandra Korinchak (Schiffer Books 2016); Armstrong's writing on fine jewellery techniques include publications in the international Art Jewelry Magazine. Armstrong's awards include the ACAD Alumni Honour Award in 2016, and Independent Artists Grants from the Saskatchewan Arts Board in 2010, 2013 and 2019.
Melody Armstrong combines her studio practice with teaching, serving as Resident Artist and Jewellery Instructor at the Neil Balkwill Civic Arts Centre in Regina, Saskatchewan for the past 12 years. Melody Armstrong Jewellery is represented by Assiniboia Gallery at 2266 Smith Street, Regina, Saskatchewan, Canada. Assiniboia Gallery showcases a wide selection of Melody's Jewellery and will accommodate custom jewellery designs. Her work is held in numerous private collections.
Gallery Representation:
Assiniboia Gallery, Regina, SK.
Paper Umbrella, Regina, SK.
MacKenzie Art Gallery Shop, Regina, SK.
Yvette Moore Gallery, Moose Jaw, SK.
Remai Modern, Saskatoon, SK.
SCC Fine Craft Boutique, Saskatoon, SK.
Handmade House, Saskatoon, SK.
Metal Works Contemporary Goldsmithing, Kingston, ON.
Tank Jewelry & Beads, Toronto, ON.
Berg Gallery, Kananaskis Village, AB.
Eclectic Gallery , Victoria, BC.
The Flight Of Fancy, Bear River, NS