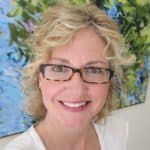 Canadian painter Nicki Ault was born and raised in Saskatoon, Saskatchewan. Nicki has an intense love for the natural world, specifically the Boreal forest, the big prairie skies and the wild grasslands of Saskatchewan. She is currently passionate about chasing light as it changes through the seasons. Nicki has always loved art, but it was only when her youngest son entered Grade One in 2010 that she found the time to pursue it professionally.
Nicki's venture into the art world has brought amazing opportunities at every turn. In March 2011, Nicki's mixed media piece "In My Aura" was accepted into a show in Ayr, Ontario featuring 100 paintings by 100 female artists from around the world in celebration of the centenary of International Women's Day. Later that same year, Nicki took on the challenge of emulating the Daily Painting movement; she created thirty small paintings in thirty days and posted the results of her experiment on her blog as each one was completed. In spring 2012 she repeated this challenge. In June 2012, Nicki volunteered on the committee which brought the first annual Art Trek: Studio Discovery Tour to Saskatoon which ran for four consecutive years. It was an event that aimed to introduce the public to the working studios and art practices of artists in the city. In 2013 Nicki took two adventurous trips: painting in Georgian Bay, Ontario and canoeing and painting in Lac La Ronge Provincial Park. In February 2016 Nicki's piece "Walk In The Meadow" won the Art Placement Media Award For Accomplishment In Oil at the Mann Gallery Winter Festival Art Show and Sale. At the same festival in February 2018, Nicki's painting "Rustle" won the Hues Art Supply Award. In September 2016 she was invited to participate with twenty-nine other artists in "A Square Affair", a show of 12×12 paintings which took place in St. Catharines, Ontario.
Nicki has taken art classes through USCAD and at the Emma Lake Kenderdine Campus with talented instructors including Degen Lindner, Clint Hunker, Iris Hauser and Alicia Popoff. Most recently she has studied old master techniques in drawing, as well as colour theory, with Craig Berry in Saskatoon and attended weekend workshops with renowned Canadian artists Gord MacDonald and Matthew Mancini.
Nicki is represented by Darrell Bell Gallery in Saskatoon and Assiniboia Gallery in Regina. Her work is held in private collections in Canada, the U.S., England, Switzerland, Thailand, Costa Rica and Australia and can be found in corporate collections within Saskatchewan. Nicki is proud to make Saskatoon her home with her husband and two sons and she loves spending time at her work space at Studio On 20th.
CONTACT
Nicki Ault Studio
Gallery/Retail Representation:
Assiniboia Gallery, Regina, SK
Darrell Bell Gallery, Saskatoon, SK
Memberships: