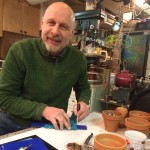 I have always liked the way stained glass can be manipulated to form various artistic or functional pieces. I started with stained glass and the copper foil technique and then moved on to explore blown and fused glass. I settled on fused glass as it allows me to combine techniques and methods to explore endless possibilities and push the boundaries of the glass and my imagination. An expanding number and size of kilns has allowed me to do this.
I like to take workshops and classes with various instructors and enjoy building on this knowledge to express and increase my artistic abilities. I have been an active member of the Saskatoon Glass workers Guild since 2011. I have been on the executive, off and on, of the Guild for the past 6 years.
I am a juried member of the Saskatchewan Craft Council and exhibit and sell my work in galleries, gift shops and shows around the province. I continue to try and grow my knowledge and technical abilities, through experimentation, and translating what I see in my head into glass.
Gallery Representation:
SCC Fine Craft Boutique, Saskatoon, SK
Handmade House, Saskatoon, SK
Remai Modern Art & Design Store, Saskatoon, SK
MacKenzie Art Gallery, Regina, SK
G.P. Carlson Gallery, Prince Albert, SK
Black Spruce Gallery, Prince Albert, SK
Memberships:
Saskatoon Glassworkers' Guild
Mix Artists Collective