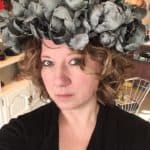 Sova Design
is the fashion design house of Sherri Hrycay. Sherri is a milliner, and is also the designer and producer of special occasion women's and children's wear. 
Sova hats transports you to fantastical places and are the perfect accessory to elevate everyday fashion. 
Sova Design promotes a unique lifestyle. We believe one-of-a-kind and handmade goods form the essence of a bygone era where quality and style superseded consumerism and materialism. Distinguish yourself from the crowd. Find your dream hat at Sova. Ready made and custom hats are available to both men and women.
---
I create each hat by hand-blocking on wood forms that I have collected from all over the world, both new and antique. My fur felt (not wool) is sourced from a 200-year-old factory in Eastern Europe. I create the hat by steaming and blocking it on top of the wooden forms. I hand sew all the finishing and embellishments to create your one-of-a-kind hat.
It's an honor and privilege to do what I do: create custom pieces my customers love to wear and covet, hopefully passing down for generations. I am often inspired what surrounds me. I am influenced by travel, architecture, antiques, and characters in books. When I am creating a hat, I like to time travel in my mind to different eras. I study vintage hats and unique textiles and felts. The availability of unique materials and expert teachers and milliners plays an important role in my designs and advancing my collections.
I have created and sold hats in Australia, England, and France. My hats have been sold worldwide and are included in Ms. Sophie Trudeau's collection, as well as Marion Boyce (Miss Fisher's Murder Mysteries, The Dressmaker). Currently they are in some stores across Canada, including Niagara on the Lake, Saskatoon, Regina, Edmonton, and Banff. I have been commissioned by Government House in Saskatchewan to replicate a variety of the Queen's hats throughout her reign and this exhibit was opened up by Prince Charles in 2012.
CONTACT
Sova Design
Sova Hat Shoppe, 801 7th Avenue North, Saskatoon, SK