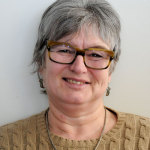 Treesa Marie Gagne began making crafts at a young age. Sewing and spool knitting fascinated her as a child; she developed an appreciation for process. Fibre classes at the Ontario College of Art increased her skills. Her passionate, empirical exploration of eco-dying was sparked at the Emma International Artists Collaboration in 2012.
An avid gardener, Treesa gathers flowers, berries, and leaves to print on, and dye, natural fibres, including silk, wool, linen and cotton. Plant-based dyes are used to tie-dye t-shirts and other garments. These are ideal for babies and those with sensitive skin.
Treesa also makes well-crafted, aesthetically pleasing pottery that brings pleasure to daily life and for special occasions. Fascinated by the endless variety of surface treatments, she incorporates them in her architectural, decorative and functional ceramics.
She teaches pottery in her studio and for the Saskatoon Potters Guild and has presented workshops for various guilds and Kenderdine Campus. Treesa has a diploma in Applied Arts, Ceramics, from Woodland Campus, SIAST, and has further enhanced her knowledge of clay through residencies and classes. Her work is in private and public collections, including the Saskatchewan Arts Board, Battlefords Allied Arts Council, and the Art Gallery of Prince Albert.
Gallery Representation:
SCC Fine Craft Boutique, Saskatoon, SK
G-G's Gallery, Manitou Beach, SK
Handmade House, Saskatoon, SK
Hand Wave Gallery, Meacham, SK
The Galleria in Inglewood, Calgary, AB
Tradtions Handcraft Gallery, Regina, SK