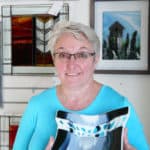 Valinda Lawson started her passion for glasswork with stained glass several decades ago. In 2008 she started to dabble in glass fusion and was soon hooked. The ability to change the glass's appearance by adding layers and slumping into different shapes has allowed her to create unique decorative and functional pieces.
Valinda started the fusing journey by taking classes through the U of S Community Arts program and from various Saskatchewan artists. She has travelled to the States to take workshops from several internationally known artists. This has allowed her to keep up with the latest techniques and advancements in the field, which she can then put her own spin on.
Valinda has studio space on the family acreage south of Meadow Lake. Here she creates, teaches classes, and has a small space to sell her creations. Her retirement from the teaching profession has allowed her more time to create and to attend various handcraft shows throughout the province.
CONTACT
Bevels & Blooms Glass Art
Memberships: