Vol 13, No 3 Fall 1988
Submitted in the Fall of 1988, the article "Better Booths" from set designer Michael Bantjes came at an oportune time, just before the Christmas craft show season. The article succinctly covers a variety of topics in respect to booth design and product display.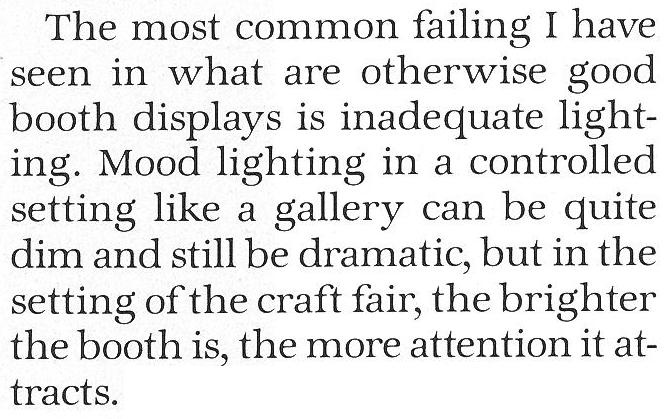 Craft artists face many challenges when selling at craft markets, not the least of which is that every venue is different – lighting, booth size, drape colour, market size and booth layout etc. Marketers need to be able to adjust to the pros and cons of each venue.
September 6th at the SCC building in Saskatoon, Susan Robertson will be leading a workshop on Booth Design. Susan will present a number of ideas about how to go about designing your booth for craft shows, some of the Do's and Dont's of booth display, and share some economical solutions for craft display! Friday September 6th 2-4pm at the SCC Boardroom, 3rd Floor 813 Broadway Ave
SCC Members $10
Non Members $15
Space is limited!
Attendees are encouraged to bring pictures of their own past displays/booths for feedback and advice on improvement.
DEADLINE to register AUGUST 26th email scc.memberservices@sasktel.net