Written by: Sydney Luther, Communications Assistant
As part of our Wholesale Program, the Saskatchewan Craft Council is sending 6 artists — Ken Wilkinson, Zach Dietrich, Wendy Parsons, Heike Fink, Robert Miller, and Elisabeth Miller — to the Toronto Gift Fair (TGF) which takes place January 31 to February 4, 2016. The Toronto Gift Fair is a five day event which features about 900 exhibitors and is attended by over 26,000 qualified retailers looking for items to sell in their stores. Wilkinson, Parsons, and Dietrich have all taken part in this program in the past, and have already attended past TGFs with the SCC. Fink and the Millers are new participants, and we are excited to be giving them this opportunity to expand their craft businesses.
The SCC runs the Wholesale Program to provide wholesale opportunities to qualified Saskatchewan craftspeople to form ongoing relationships with retailers across Canada. Highlights of this program include consultation services provided by experts, one-on-one training sessions with studio visits to assess capacity and identify strengths and weaknesses; mentoring from current wholesale participants; marketing tools; and this shared booth at the Toronto Gift Fair.
These artists were given the opportunity to meet with Bernard Berton, Executive director of the Craft Alliance – an agency of the Atlantic Provinces which focuses specifically on wholesale marketing. They also met with Sue Robertson – an SCC member who is one of Saskatchewan's most successful wholesale marketers of craft. These meetings and studios tours helped our artists prepare for the upcoming Gift Fair.
Ken Wilkinson thinks attending a fair such as this in person is the key to wholesale success. "[The retailers] want to know who you are. If they see a face and meet a person, then they're in better shape to tell your story when someone comes into their shop and wants to buy," he says. "It's crucial."
The SCC has been running the Wholesale Program since 2011, and originally focused on taking several craft artists to the Alberta Gift Show in Edmonton. In the last couple of years we've added the Toronto Gift Fair to the program as the Toronto show has a more varied crowd attending and retailers attending seem more willing to buy. This will be our fourth time taking artists to the Toronto Gift Fair, which has a "spring" show in January and a "fall" show in August each year.
Although we are not assisting them this year, Wendy Parsons, Zach Dietrich and Ken Wilkinson will also be attending the Alberta Gift Show this year after having a successful sale last year with the SCC.
---
Heike Fink – Feltastic Fibre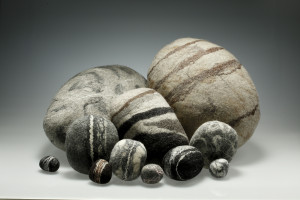 Heike Fink is a felting artist, originally from Germany, now living in Prud'Homme, SK. She learned the ancient art of felting in 2004 and has spent hardly a day without felting ever since.
She is very fascinated by felting, since it seems almost magical how those loose fluffy wool fibres transform into a solid expressive figure. She is mostly attracted by the lightness and fluffiness of the wool, all the different colors, the smooth tactile touch and the versatility that felting offers. She is self-taught and has learned the art of felting with lots of experimentation. She creates her fibre art using the techniques of wet felting, needle felting and nuno felting.
Specializing in nuno felting, she creates light, elegant and unique silk scarves. The scarves come in a great variety of colours, suitable to a wide range of fashions and individual tastes – they are simply a piece of wearable art!
Heike also loves sculptural work and especially animal sculptures. Besides animals, she creates abstract or human figures, a variety of functional craft items and a range of rocks and pebbles. She draws most of her inspiration from nature, and the abundance of nature is one reason why she moved to Canada.
Her work has been displayed at various arts and crafts shows, galleries and exhibitions in Canada, the USA and Germany. She has won several awards for her work.
Phone: 306.654.2188
---
Elisabeth & Robert Miller – Fractured Glass Studio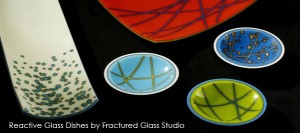 Elisabeth and Robert Miller are fused glass artists that work together to create fine and functional glass art. Both are fascinated with stained glass and its ability to transmit light and emotion.
They like the combination of the technical skills needed to produce the artistic finished product and the freedom from traditional copper foil or lead lines. Although they pursue their individual projects and work, they often work together on larger projects or on new and experimental projects that require more brainstorming and collaboration.
Both Elisabeth and Robert were born and raised on the prairies and draw their inspiration from the prairie landscapes and the urban environment. They also like to combine glass with wood and metal to enhance all the materials in the project. They have travelled extensively, in North America and abroad, and look for other inspiration in landscapes and built environments that are very different from Saskatchewan. All of these experiences combine to produce unique, one of a kind fine and functional glass art.
Email: fracturedglass@sasktel.net
Phone: 306.230.5411
Facebook: Fractured Glass
---
Wendy Parsons & Zach Dietrich – Parsons Dietrich Pottery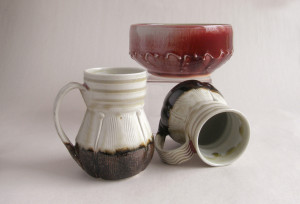 Together Zach Dietrich and Wendy Parsons make Parsons Dietrich Pottery, a renowned Saskatchewan ceramic duo based out of Moose Jaw. The married couple have created, displayed and sold their work out of a former United Church in Moose Jaw since 1980. The two artists often work collaboratively on their pieces. Zach throws pottery at a wheel, and Wendy adds details, such as hand-built animal features. In their studio, they have built a gas fired kiln and a cooperative wood fired kiln.
The couple is known for using Saskatchewan glazes and clay, and, as Zach says, "Nature is a constant inspiration for both of us." The husband and wife team often work collaboratively, but also create and sell pieces separately. Wendy is known for creating works that are more sculptural, while Zach likes to create more functional pieces. Zach loves the grace and elegance of porcelain, while Wendy enjoys working with sculpture clay in a more spontaneous, loose manner.
Zach Dietrich graduated from the University of Regina and then began taking pottery classes from that campus' Extension Department, before moving to Moose Jaw with Wendy. He has studied under great Saskatchewan potters such as Mel Bolen, Don Chester, and Jack Sures. Zach has received the SCC's "Best in Clay" award at Dimensions, and has been active in the art and culture community, including having served on the SCC Board for many years.
Wendy received a degree in Fine Arts from the University of Regina and has a Masters in Museum Studies from the University of Leicester, UK. On top of her own pottery work, Wendy also worked for the Moose Jaw Museum and Art Gallery as their Education Coordinator from 1996 to 2004. Since then she has written four education guides for travelling exhibitions curated by Heather Smith. Wendy also teaches pottery classes and workshops.
Email: pdpots@sasktel.net
Website: parsons-dietrich-pottery.com
Facebook: Parsons Dietrich Pottery
---
Ken Wilkinson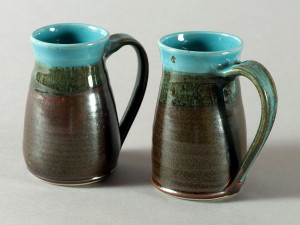 Ken's work is amazingly eclectic, accomplished, spontaneous and controlled. His work has shown across Western Canada in exhibitions, galleries, craft stores and craft shows. His work has been shown in Winnipeg, Saskatoon, Regina, Prince Albert, Lloydminster, Edmonton, Calgary, Banff and Jasper Alb., Innvermere BC. and Whitehorse Yukon, as well as Cheongju, Korea.
Almost forty years ago, a university art school pottery class and exposure some of the famous ceramists of the day conspired to interrupt Ken's studies in engineering and computer science. His scientific studies coupled with an inquiring mind and a need to understand how things work have informed his work as a potter. He has designed and built his own kilns, equipment and studios. His fascination with clay has led him to explore many of the possibilities open to those who choose the life of a potter.
Ken has become a master of his craft whose work varies from coffee cups to furniture to wall murals. He designs, creates, markets, teaches, learns, collaborates and advocates for Fine Craft.
In his spare time Ken has been chairman of the Saskatchewan Craft Council and is currently president of the Canadian Craft Federation, as well as a member of several arts groups in Saskatchewan and Alberta.
Email:sleepingdragon@sasktel.net
Website: kenwilkinsonpotter.com
Instagram: @KenGWilkinson