In 2015, the SCC is celebrating its 40th anniversary. In 1975, fifty-seven Saskatchewan artisans organized themselves into a determined force with a single voice and a common purpose. That purpose was to promote and raise the profile of Saskatchewan artisans, improve the quality of work produced, and facilitate communication among the membership. Each of these people donated just $5 to this cause and the Saskatchewan Craft Council was born. You can read more about our history here.
Our board members and staff have come together to conduct interviews with as many of these founding members as we can, in celebration of this milestone. We are interested in these founders' thoughts around why we came into being and their insights for the future.
Jane A. Evans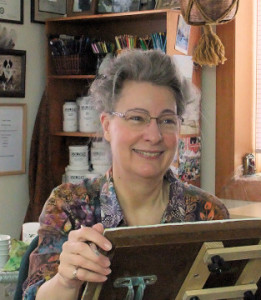 Jane A. Evans is a landscape artist living in Grandora, Saskatchewan. In about 1971, Jane began making fibre art, but in 2012, she transitioned to painting with acrylic paints. Recent paintings are often multi-media with perceptible surfaces and textures, incorporating acrylic gels, pastes, and/or oriental papers collaged under the acrylic paints. She is no longer a member of the Saskatchewan Craft Council, as she now focuses exclusively on her painting.
Jane has training in Fine Arts from the University of Saskatchewan, holds degrees in literature and education, and is a Master Weaver.  She has been nominated for Canada's two most prestigious awards in craft, the Saidye Bronfman Award for Excellence and the Jean A. Chalmers National Crafts Award.  Her woven and painted artworks are in magazines, books, and collections around the world and have won many awards in exhibitions in the United States and Canada.  She has taught weaving throughout North America, written a well-received book and numerous articles, and developed unique image-making techniques in fibers and paints.
What compelled you to throw your $5 and yourself into creating a new organization dedicated to supporting craft?
I loved the idea of being part of a supporting group with the same goals of creating craft work. It was a time of optimism and energy, all across North America. By forming an organization here in the province, it meant we could direct actions toward personal and general social growth.
What are you most proud of over the last 40 years?
The refined level of the SCC's abilities in presenting craft exhibitions, markets, sales in a boutique, and — at various times — educating both craftspeople and the public.
What has disappointed you?
That few younger people value the making of their visions in tangible forms. The aging section of the demographic of craftspeople is sadly too large in proportion to the incoming makers.
What are your hopes for the future?
That there is a rise in recognition of crafts and other art forms by the public, both those people old enough to support through acquiring or at least encouraging crafts and the younger people who could contribute to the world with some beauty and individual creativity.
What are you doing to celebrate Craft Year 2015 and our 40th anniversary?
Nothing special. I am no longer directly in the craft end of being a maker, having changed into visual wall art more.