Submitted by: Maia Stark, Gallery Assistant
"Yarn-bombing" goes by many different names: "guerilla knitting," "yarn-storming," "urban knitting," and even "grandmotherly graffiti," just to name a few. What these various names have in common is the particular presentation of a particular medium: that of knitted or crocheted pieces left it in public spaces. These works are often wrapped around static objects, such as trees, fire hydrants, phone booths, poles, fences, and more.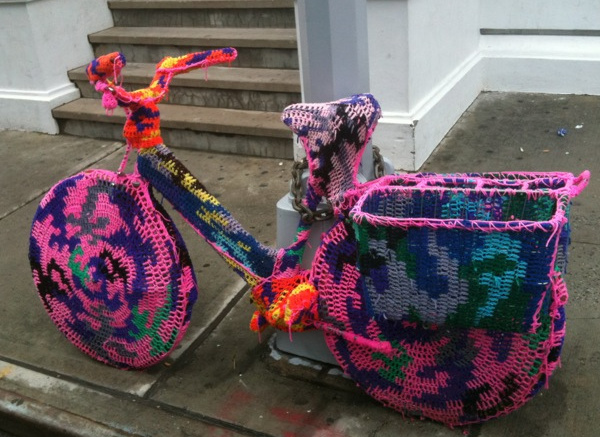 Many yarn bombers play on the idea of making "cozies" for unconventional objects: for example, pictured above, a bicycle wrapped in a cozy by recognized fibre artist
Agata Oleksiak
.
Yarn-bombing has become a dynamic and acknowledged form of public art over the last ten years, as "bombed" spaces from all over the world gain attention in the media. The roots of this movement can be tied to "craftivism," a term coined to signify the merging of crafting with activism: "craftivism is a way of looking at life where voicing opinions through creativity makes your voice stronger, your compassion deeper and your quest for justice more infinite." (Betsy Greer, qtd. By Wallace, Yarn Bombing, Knit Graffiti, and Underground Brigades). Early craftivists include artists such as Judy Chicago and Joyce Wieland in the 1970's and 80's. Craft as a subversive form was used by such artists as a method of feminist expression and as a critique of the male-dominated art world (Wallace, Yarn Bombing…). Current public art which incorporates craft owes its legacy to early craftivism, though of course yarn-bombing or other types of public craft need not necessarily work under their predecessor's political motivations. Yarn-bombing can simply work under the desire to bring beauty into a public space.
Yarn-bombing is most often done without permission, prompting the "guerilla" and "graffiti" titles attached to it. Despite the negative connotation of graffiti or street art—as vandalism or as violent acts— yarn-bombing is a much less permanent and non-destructive form of public art. Yarn-bombing often lends an air of unexpected surprise: bright knitted or crocheted swatches of colour which temporarily light up the otherwise familiar and concrete urban setting. Though some "bombings" do have political motivation, their actions are highly non-violent— while spray-paint or posters may be difficult for business owners or house owners to remove, yarn bombing can simply be cut away.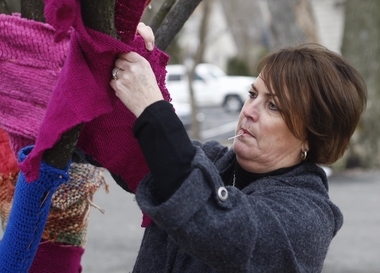 Kim Weiss, co-owner of Close Knit Yarns in Wyckoff, New Jersey, helps to yarn bomb a nearby tree.
New Jersey News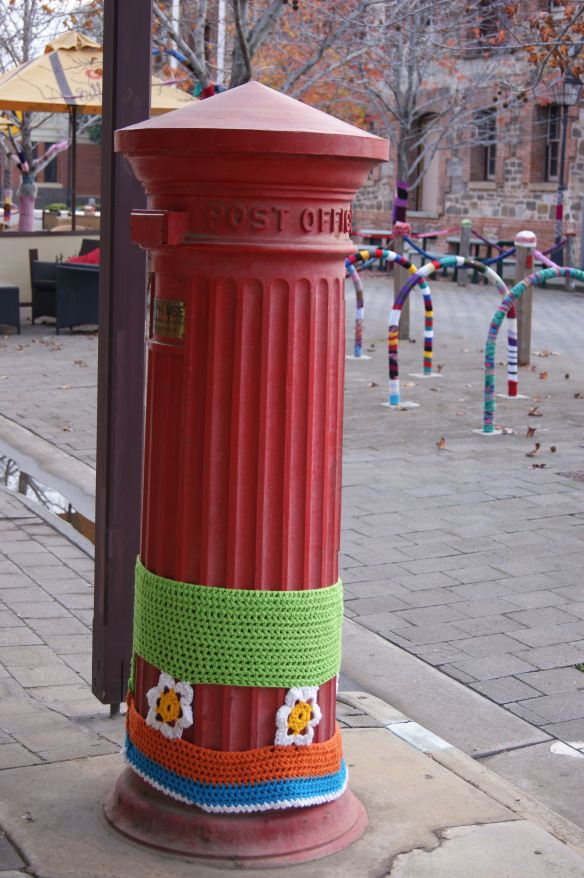 A yarn-bombed mailbox by an anonymous artist, from Adelaide, South Australia (
yarn-bombing.com
)
Some yarn-bombers prefer to operate under a pseudonym (such as Streetcolor , or Bali) in order to protect their identity from local infamy or notoriety, while other yarn-bombers perform under their own names, working on commission for the city or for private citizens. Some create complex custom patterns for their projects, while other yarn-bombers prefer to use extra pieces from old projects, incorporating a more spontaneous and mismatched approach to the project. Yarn bombing can be a small, independent pursuit, such as the small pink hearts anonymously left on Ossington Avenue in Toronto just this last March. Or, yarn-bombing can be a huge project, enlisting hundreds of like-minded crafters, such as the projects completed by the guerilla knitting group, Yarn Bombing Los Angeles.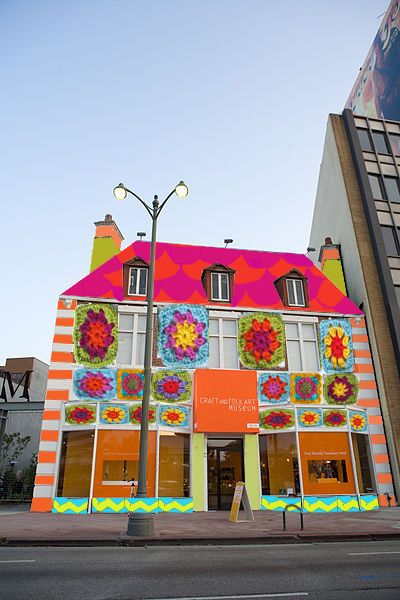 Yarn Bombing Los Angeles' completed project, "CAFAM Granny Squared."
The legality of un-commissioned street art is something to consider if you are thinking about exploring your own craftivist or yarn-bombing side: unfortunately, I found little online information about Saskatchewan's policies on this topic that I could refer readers to directly. I imagine that contacting the Saskatchewan Arts Board about public art would be a great start! However, I will also refer you to this blog post, "Yarn Bombing: Things to Consider Before You Begin," for suggestions on how to start yarn-bombing your city in a considerate manner.