Written by: Sydney Luther, Communications Assistant


Thursday, September 14 • Opening Night Preview Reception (Tickets available here) • 7 – 10 pm
Friday, September 15 • Open to public • Noon – 9 pm
Saturday, September 16 • Open to public • 10 am – 6 pm
Sunday, September 17 • Open to public • 10 am – 4 pm
The Soundstage, 1831 College Avenue, Regina, SK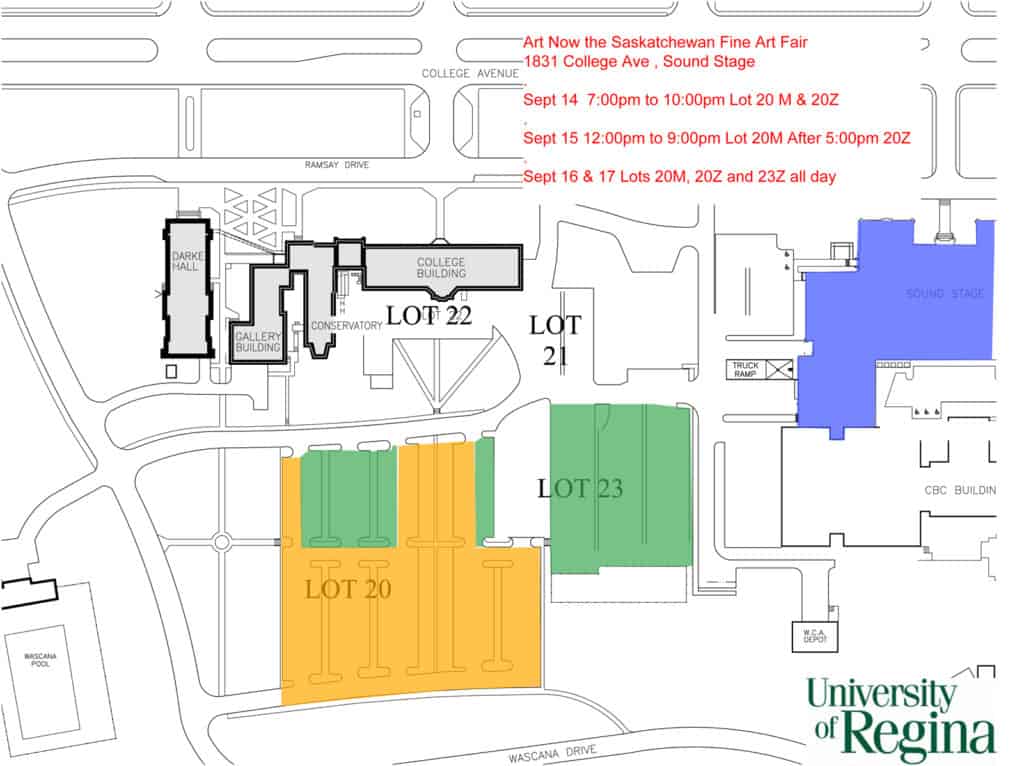 FREE ADMISSION!
The Saskatchewan Craft Council is thrilled to be involved in the second annual Art Now: Saskatchewan Fine Art Fair — this time in Regina! This event, presented by SaskGalleries, features premiere commercial art galleries from around Saskatchewan, and beyond. This is a unique event that showcases the incredible art culture in Saskatchewan and in Canada and includes nine commercial galleries and hosts the work of nearly 200 established and emerging artists. There will be artist talks and educational sessions running throughout the event where you can listen to artists, curators, and other members of the arts community as they discuss their practices, art and technology, the importance of collectors and more. There will be food and drink available all four days. The event will also have a children's art area, as well as a technology booth run by SaskInteractive! The Saskatchewan Craft Council will have a booth featuring the artwork of 26 juried SCC artists. Come and wander the 5,344 square feet of original fine art, all in one location. Everything will be for sale! Art lovers of all ages are welcome.
Exhibitors:
The GALLERY / art placement inc – Saskatoon

Assiniboia Gallery – Regina
Bohéme Gallery – Saskatoon
LANTERN – Winnipeg
Nouveau Gallery – Regina
Saskatchewan Craft Council – Saskatoon
Slate Fine Art Gallery – Regina
Traditions Hand Craft Gallery – Regina
Void Gallery – Saskatoon
Opening Night Preview Reception
The Reception is on Thursday, September 14. Tickets are $40 for regular admission, $20 for self-proclaimed artists. Tickets are available online. The Door Prizes to be given away at the Reception are valued at $3,000! The event will feature which features Prosecco, appetizers, draws for gift certificates and a Joe Fafard sculpture, live music and first look at the art!
Happy Hour
Happy hour will be on Friday the 15th from 4:30 to 6:30 pm with a live DJ: E-Major. Join us for drink specials and fun!
Artist Talks
Art Now presents a series of  amazing artist talks each day of the show. All of these sessions are free to attend and all happen at the Soundstage. The Saskatchewan Craft Council is presenting an Artist Talk by photographer Brent Parkin on Friday at 7:30 pm.
Panel Sessions
There will be several talks and panel session on the main stage at Art Now. Head to www.artnow.ca for the details. The SCC is sponsoring two:
Friday, September 15, 2:15 p.m. – Just in Case: Protecting Your Art Legacy
Just in Case was started by Harold Empey, a retired executive. Harold created a presentation and manual that outlines many questions to consider just in case something happens. In the case of artists, the list becomes more complex. Are you preparing your legacy? If you don't, someone else will have to make these decisions for you.
Presenter: Harold Empey
Saturday, September 16, 2:15 p.m. – On Collecting Art
Collecting art is more than just filling spaces on walls. Collectors are as varied and unique as the works of art that they collect. Some do it for love, and others for money. Some collect with an eye towards posterity, while others make compulsive choices. Whether you're a first-time buyer or a person who speaks confidently about your "collection", this discussion is sure to offer something of interest. It offers practical advice and stories of the ones that got away to discussions about individual collecting practices and sneak peeks into some of the province's most noteworthy private collections. 
Presenters: Kim Jones, Laurie Nenson and Pam Klein, moderated by Kimberley Fyfe
Online Store
We will be selling the works in our booth in our online store. These will be up by the end of next week here.
Sponsors
For a full list of event sponsors, visit www.artnow.ca