Written by: Sydney Luther, Communications Assistant
Artist Name: Louise Tessier
Business Name: Garden Rhymes Studio
Medium: Ceramics, Printmaking, Rug Hooking, Graphic Arts
Practicing since: 1998
Where to buy:
My work is also available by visiting my studio in Regina (by appointment)
Tell us about your art process
All my work begins as a graphic design which serves as the basis for my art pieces.  In the case of my ceramic tiles, the hand-carved linoleum stamp is impressed into clay slab, kiln-fired, hand-painted and varnished. In the case of my relief prints, the hand-made stamp is inked and print images are made on paper. In the case of my rug hookings, the graphic images are modified, enlarged and transferred onto burlap fabric. Strips of wool fabric (recycled or hand-dyed) are then hand woven into the burlap with a special hook.  This method, called continuous loop rug hooking, originated on the east coast of North America.
What inspires that process?
My inspiration comes from poetry, quotes, botanical images, travel and my Christian faith.  I enjoy including many different font types in my work which usually includes words in the design.  I find hand-carving linoleum stamps very relaxing, even though it is very labour intensive.  The resulting texture provided by the stamps being impressed into clay slabs is visually satisfying and texturally pleasing to me.  I have always had a fascination with stamps, even as a young child, beginning with potato printing at our kitchen table.  I find graphic images very appealing and I also enjoy working in vibrant colors.
Tell us an interesting fact or tidbit about the pieces of which you've sent photos
1. The Garden Way of the Cross © 2010-11. (framed set of 15 handmade tiles)
This set of tiles has been published in book form using hand-painted print images as illustrations in 2013 by Novalis Publishing (same title) .
2. Our Lady of the Prairies © 2011. (rug hooking)
This rug hooking was inspired by the workshops I have attended in religious icon writing (Prosopon School of Iconology prosoponschool.org)
3. Grandma's Flowers © 2009 (rug hooking completed in 2014)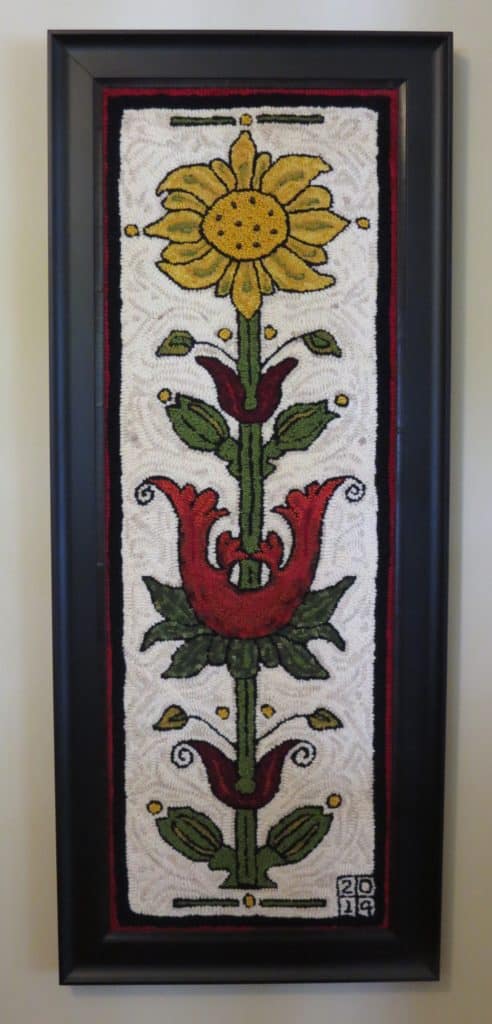 This design, originally created as a ceramic tile and modified for rug hooking, was inspired by a wood carving on the side of my maternal grandparents' pump organ.
4. The Second Eve © 2016. (relief print in the German Expressionist style)
After viewing Max Pechstein's 1921 work, The Lord's Prayer (Das Vater Unser) on a 2015 trip to New York, I was moved by the striking black images and the very bold fonts. With the invitation to participate in the Saskatchewan Printmakers' Association's German Expressionist Caligari Project, Pechstein's work flooded back to me and inspired my work, The Second Eve.