Submitted by: Sydney Luther, Gallery Assistant.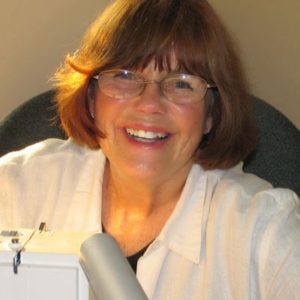 Donna Cutler
Donna Cutler is a fine craft artist featured in the SCC Fine Craft Boutique. The artist, who resides just outside of Saskatoon in Beaver Creek, focuses mostly in the medium of free motion embroidery. Although she was originally self-taught, she went on to receive a certificate for Art and Design Level III at the Gail Harker Center for Creative Arts in Washington State, as well as certificates in hand embroidery and machine embroidery. Cutler says, "I arrived at fiber art through a long process of trying many other art forms. I started out drawing as a child, then as an adult, developed an interest in sewing, rug hooking… I also worked with various forms of hand needlework. Later on, I took a quilting class which was pivotal for me, as it led to art quilting."
Cutler, who grew up in Winnipeg, specializes in what she calls 'thread paintings,' in which she depicts nature in near-photographic detail. She remarks, "I'm very lucky now to live south of the city within easy access to places like the Beaver Creek Conservation Area and Cranberry Flats." Cutler takes many photographs of everyday nature settings to recreate using thread and embroidery techniques. She also utilizes photographs her husband Adrian takes, as well as ones supplied to her by good friend Judy Wood.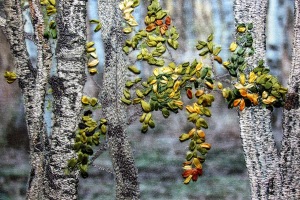 Autumn Birches by Donna Cutler
Cutler's work is unique from other fibre artists' because of her extreme attention to detail, which creates incredibly realistic looking textures. This style is not one that is easily replicated. She also dyes all her own fabrics and spends most of her summers dying fabrics at her home.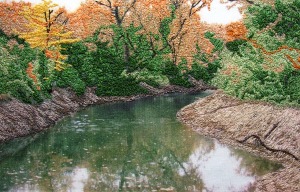 Bend in the Creek by Donna Cutler
On top of her unique fine craft work, Cutler also teaches and does commissions. To read more about this, check out her blog here. Cutler will be a Feature Artist at Anna Hergert's Open Studio Workshop June 27th and 28th, 2014 and will be selling her work at at Art at Solar Gardens (previously Art at Agar's) in September. Cutler's beautiful work is also for sale in the SCC Fine Craft Boutique. Please come visit and check it out!