Submitted by Vivian Orr, SCC Communications & Publications Coordinator
OFF THE WALL:
The World of Wearable Art
Photography by Martin de Ruyter, Neil Price, Rohit Chawla and Daniel Rose
746.920993 OFF – Frances Morrison Fine Arts Library in Saskatoon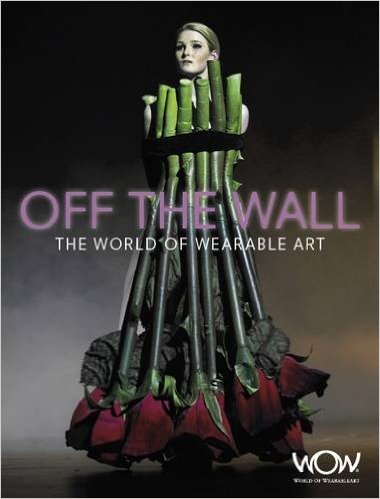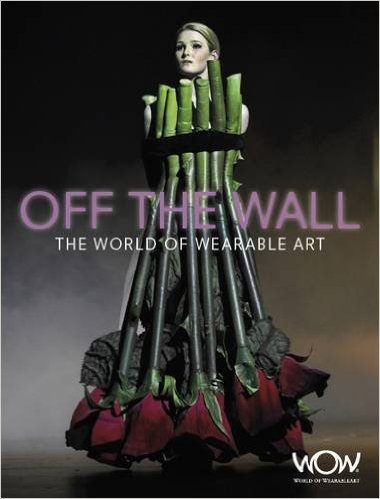 In anticipation of the Saskatchewan Craft Council gallery exhibition Wearable Art 2, I thought reviewing a book that celebrates this international phenomenon in New Zealand – World of WearableArt™ Awards Show, or WOW® –  would be fun!
In 1987, Nelson sculptor, Suzie Moncrieff came up with an original idea to promote her rural art gallery. She decided to take the art off the wall, put it on the human body and design a theatrical show to present the creations. Almost 30 years later, WOW now attracts international artists, designers, costume makers and craftspeople who present their creations, on stage in Wellington, to an annual audience of 50,000.
The book starts with a short Preface which talks about the history of WOW and an Introduction by Suzie Moncrieff, the founder. After that you can enjoy more than 150 pages of colour photos featuring the wild and sometimes "woolly" creations.­
If wool isn't your thing, check out this wooden wonder!
David Walker has another, equally stunning piece called Prehistoric Princess, where a laced bodice collides with an armoured dinosaur and results in a dress train with spikes!
Or perhaps you want something more "precious" like sterling silver? You need to study the actual photo to grasp the delicacy of Claire Prebble's work, especially around the face and arms.
My scans don't do justice to the images. Get the book, sit down and flip through the pages yourself.
Let me whet your appetite with a few more descriptions:
• Ornitho-Maia by Nadine Jaggi, New Zealand. Leather – wet moulded, embossed, carved, hand dyed, copper foiled & hand sewn; bronze buckles, steel rings
Nadine Jaggi's magnificent creation turns leather into a curvaceous costume fit for a jungle princess with super powers and attitude.
• Madame Mathews As Marksheet Monster by Ankur Kaushik, India. Polypropylene
Ankur Kaushik's piece is reminiscent of an origami architectural model, where pleats and folds create texture, volume and shape.
• Screen Play by Amy Jean Boebel, Sue Hobby, United States. Aluminium screen, monofilament
The duo of Boebel and Hobby have taken ubiquitous screening material and sculpted it into three costumes that flow, wrap and encase the models.
• Seamless Octopus by Kim Kui Tang, Hong Kong. Hand looped iron wire
This demure­ gray metallic dress by Kim Kui Tang, might motivate you to get your knitting needles out the next time you see some wire.
OFF THE WALL: The World of Wearable Art is eye candy: coated with creativity with zero calories, but heavy with inspiration.