Submitted by: Maia Stark, Gallery Assistant

As someone who has only recently begun to be a vendor at local craft markets, I scoured the internet for ideas and tips for my first market experience! I was terrified of forgetting something simple but crucial. In this post, I'd like to list some of the valuable advice I've discovered!
Tip #1: Emphasize the hand-made quality of your work.
The first time I bought handmade goods online I was struck and charmed by the special touches the merchant had added: a handwritten "thank you!" note, a cute sticker, colourful string around the interior package. It may be worth thinking about some kind of unique wrapping or nice packaging. When customers feel special and take their purchase home in a way that's markedly different from a typical retail purchase, they remember that experience. Buying local and handmade products is a special moment in a mass produced retail world—help people remember why buying local is great!
Tip #2: Have works that reflect a range of prices.
Though it doesn't work for every craftsperson, this is a tip that I'm slowly becoming convinced is very useful. Not only does this mean that everyone who attends the market can afford to buy something at your stall, but shoppers tend to look at prices and objects comparatively. When a browser sees something small and simply made for $10.00, and then looks around the table to see a large complex piece for $65.00, and the even more complex, absolutely stunning piece for $200.00, math is happening. The customer will quickly relate and compare the price to the handiwork, size, and labour which is reflected. Shoppers will (hopefully) understand that your prices are not arbitrary numbers, but each price reflects time, experience, skill, and materials. Shoppers new to craft and new to markets may quickly dismiss items as "too expensive." By finding a way to have a range of prices which reflect the quality and breadth of your skill, you are assuring customers that you are pricing considerately and according to quality.
Tip #3: Price everything visibly.
This seems like a simple act, but this small tip will keep people looking longer. Shy customers or ones that are reluctant to get involved with the merchant right away will leave preemptively if they are faced with the choice of asking "how much is that? … and that? and this one?" Not only should everything be priced but have the price visible. Pricing with stickers on the bottom of pieces is fine, but if you have delicate or large works, customers will hesitate to pick objects up to check the price themselves. If you think that lots of price tags will make for a messy display, try having small signs set up in sections that say "20-30 dollars" or "50 and up," so that customers know your price range and you get to keep a minimalist display.
Tip #4: Be present.
At my first craft market my feet were killing me. My partner-in-crime and I had to sit down several times. However, while I sat, I noticed that people didn't seem to talk to us as much. Perhaps the height hierarchy made people feel uncomfortable. Perhaps they think "Oh, she's taking a break, I'll come back." There is something about sitting a lot which I think can prevent people from spending time at your table. Similarly, I think that if a vendor looks bored or tired, people are less likely to approach. This makes for an exhausting day, of course. Smiling and interacting all day, for hours, all while trying not to seem to pander for attention! As well, I fully support that if someone wants to be a crabcake, they should be a crabcake without judgement! Sometimes you just need to humor a bad mood and let yourself feel what you feel. Nevertheless, during a craft market a friendly and open atmosphere could easily increase your sales.
Tip #5: Offer different payment options.
Many people just don't carry cash anymore! This can certainly be frustrating for vendors. Perhaps you or someone else you know has been in the situation when a customer is really excited by your product and then they say, dunn dunn dunnnnn: "Do you take visa?" Your face falls. You want to say, "Are you kidding? I made my display out of old lumber, nails, and discount gold spray paint. I don't have a debit/credit machine!" Luckily there have been developments in the last few years— new ways of accepting cards which don't let credit card companies charge you extraordinary percentages after you spend upwards of $400.00 on a wireless machine! One such new method is "

Square Up

," which is a system that only requires an account (free to sign up for), and a small card reader (also free). All that you require is a smart phone with access to the internet. Square Up takes only 2.75% of each swiped sale, and you have free access to their entire digital inventory system which can also help you track your sales. Being able to take credit cards will certainly increase your sales—customers who don't make the trip to the ATM will be able to buy product from you!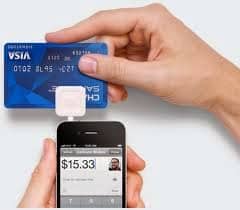 Square Up lets multiple users access inventory and make sales, depositing sales overnight directly into your bank account. Customers can even request an emailed or texted receipt (Squareup).
For more tips and lots of display ideas, check out these other blogs and websites!