Taking place from July 25th to August 1st, the Emma International Collaboration is an unstructured, creative collaboration between invited artists from all over the world. Affectionately known as "Emma," this biennial week-long residency takes place at the Ness Creek Festival Site in Northern Saskatchewan. Artists at various stages of their careers are challenged to step outside their usual art practice to explore medium, technique, and subject matter through hands on collaboration and exciting creative exchange.
What is your current area of artistic interest?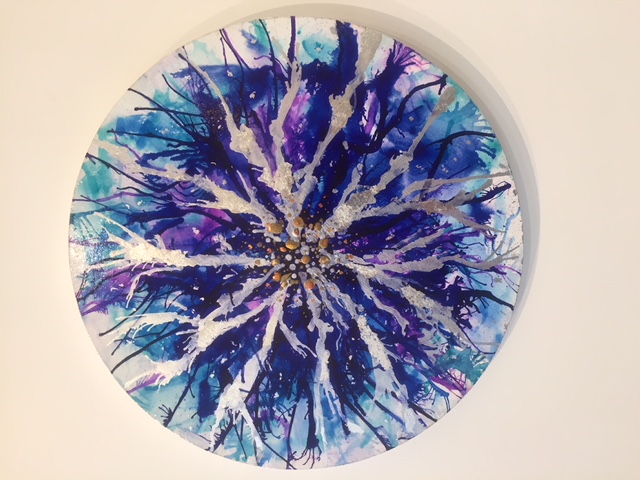 I'm currently creating a new body of works with vibrant colourful alcohol inks and metal foils, poss a little collage, on round white boards of varying sizes; plus carving a commissioned 1 metre tall Mt. Sommers limestone sculpture for a show in New Zealand in September. I'm also creating an installation of up-cycled objects of beauty, transformed.
What is an an interesting or surprising aspect of yourself as an artist?
My artistic practice is innate, & intuitive. It involves shortening the distance between my heart and my hands. Clearing my busy mind away. Playing ancient Palistrena Masses (very old chanting church music), all the requiems Mozart, Bach, Verdi.
A divine place to be; my studio is my sanctuary 🙏. Creativity is essentially spiritual and that drives me.
If you could have an artistic superpower, what would it be?
My artistic superpower would be to restore & beautify all the worlds manmade ugliness. I'd gather similar Supersouls (we have wings) and we'd zoom around the world; removing toxic, ugliness everywhere… restoring with beautiful colourful,  healing art, nature & design…
What is the biggest thrill for you as an Emma participant?
Biggest thrill of Emma is being Chief Lieutenant of The Fun Police 😉 (Miranda Jones is the Captain). Having so much creative (laughing 'til I cry) fun and rich learning from playing with other similar global artistic souls.
Emma Art Auctions
Ness Creek
WHEN: Wednesday, August 1

Live & Silent Auction: 4 – 7 pm

WHERE: Ness Creek Festival Site, east of Big River, SK
Saskatoon
WHEN: Thursday, August 2

Silent Auction: 5 pm
Live Auction: 7 pm

WHERE: Holy Family Cathedral, 123 Nelson Road, Saskatoon, SK
These live and silent art auctions take place at the end of Emma at the site and in Saskatoon. The auctions are fun, free, and open to the public. This could be the beginning of your art collection! See what artistic magic occurred at the week-long collaboration! Bid on sculptures, paintings, furnishings, jewellery, and wearable art created by more than 80 international, national, and local artists. Proceeds help fund the next Emma.
The Saskatoon auction will feature food by Fresh Dish Catering and a musical performance by Saskatoon local Ellen Froese.