Written by: Vivian Orr, Communications and Publications Coordinator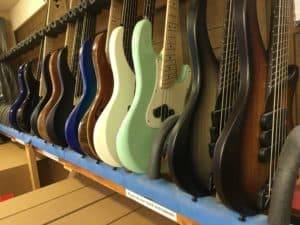 "Our goal is simple: We want to make the hairs on the back of your neck stand up every time you play a Dingwall
For our team of craftspeople, building instruments is the most fascinating and fulfilling experience imaginable. It is the meeting place between the technical world of physics and engineering and the emotional world of soul and passion. Instruments from centuries ago are today still cherished, passed on from generation to generation. We believe that the instruments we build will share the same legacy. Because of this, we build every instrument with passion and reverence."
SCC Staff and Board were fortunate to tag along with luthier David Freeman's guitar making students for a 2-3 hour tour. It was an amazing learning experience on so many levels. We left with a greater appreciation for the complexities of designing and building a world class bass guitar, as well as what it means to compete on a global scale in a niche market.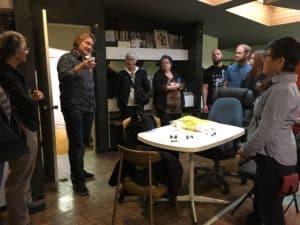 Sheldon Dingwall said he feels he is perfectly placed in the middle – between artist and mechanic. (I personally would add acoustic engineer to that mix.) Dingwall Guitars build their own magnetic pickups, order custom metal guitar strings and are proponents of fanned-frets – because they are devoted to crafting better instruments.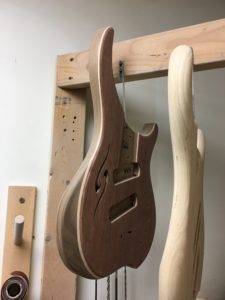 As a musician Sheldon has firsthand experience with the bass guitar and it gives him empathy for his customers. Whether it is designing in CAD software, programming the CNC router or using the woodworking equipment (some he acquired at an auction of a casket making company), Sheldon gives every aspect of production his meticulous attention.
He is constantly thinking about how to do things more efficiently, maintain quality control, balance costs and move the company forward through innovation and eye catching designs (I envy their dedicated set up for photographing those gorgeous guitars). Dingwall's recent foray into off shore production has grown the business significantly, but their devotion to high quality standards means they do all the finishing in their facility in Saskatoon.
If you ever get a chance to go on a tour of Dingwall Guitars and listen to founder Sheldon Dingwall talk passionately about his business, do not hesitate to go!