Submitted by: Leslie Potter, Exhibitions and Education Coordinator
It's like Affinity Gallery is sucking in daylight from the outside!!!
This time last summer, we switched the halogen lighting in Affinity Gallery over to LED lighting. The switch happened right in the middle of fibre artist, Anna Hergert's exhibition, "
Sharing Riches of My Soul
"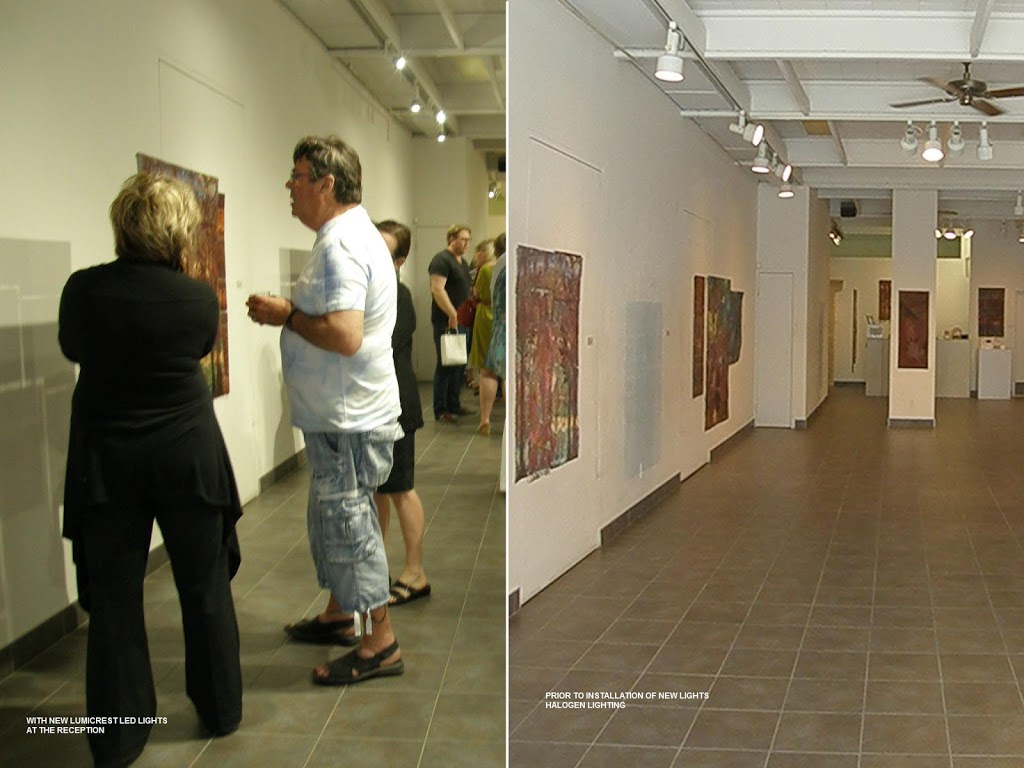 LEFT: AFTER the new LED lights have been installed
Note how, unlike the light cast by the halogens in the image on the RIGHT, the LED lights do not change the colour of the floor, walls or artwork!
We are very pleased; the colours in the pieces pick up so much better, and with the variety of beam angles we've got lots to play with.
I had three concerns about using LED:
that they cast hard shadows;
that they were not as soft as incandescent and therefore created "halos" around the art work,
and thirdly, I was not sure how our dimmers would work
However, I was pleasantly surprised to find that the 60 degree beam angle LED was just as soft as the halogen. We are using these to light most of the works. When we require more of a "spot" we use the 45 and 30 degree beam angles. And, the fact that they are completely dimmable gives us ample control over how lighting works in the gallery even with our antique dimmers.
We are also pleased with the
4000 K natural white
; it illuminates colours in a most pleasing way. When we switched over to LED from halogen, every staff member at the Saskatchewan Craft Council remarked on how the pieces "came alive". There were some colours and materials in just about all of the pieces that were not evident under halogen light. The fact that there are
no UV rays emitted
is also very much appreciated, because we often exhibit UV sensitive materials. As well, there is
no infra-red spectrum (heat)
, so our air conditioner is working significantly less this summer! With our present usage I predict the lights will last over 20 years, (solid state circuitry lasts 45,000 hours) which is another saving over halogens which burn out quickly.
We are now using about 400 to 500 watts; previously we were using upwards of 4500 watts!
It's hard to imagine that you can have such beautiful lighting that will save you money! It's definitely the way of the future. We are currently switching from fluorescents to LED to light our new SCC Fine Craft Boutique.
A big thank you to Andrew Geldart, Western Region Sales Manager at Lumicrest Lighting Solutions for his help in our conversion.