Submitted by: Maia Stark, Gallery Assistant
This lucky Gallery Assistant had the great pleasure to spend some time on the East Coast this June, and while being visually overwhelmed by cliffs and waves and whales, she managed to spend some time at the Art Gallery of Nova Scotia and, on a friend's recommendation, went to check out the AGNS's permanent collection of Maud Lewis's work.
Despite knowing a bit about folk art (or so I thought) I hadn't heard of Maud Lewis before this moment—to my own surprise, as she is apparently one of Canada's most beloved and well-known folk artists. Her life story, struggles, and seemingly never ending positive outlook on life make her story a compelling one.
Maud Dowley was born in 1903 in South Ohio, Nova Scotia. As a child who developed juvenile rheumatoid arthritis as well as being born with some physical disabilities, Maud often played by herself and stayed close to home. To assist her family in her own way, she began painting and selling Christmas cards. Maud's parents died while she was still quite young, only in her late twenties, and it was her brother who inherited the family home. She stayed with her brother and his wife for some time, but then moved to Digby to live with her aunt—here was where she met Everett Lewis, a fish peddler who further encouraged her painting and the two were married in 1938 (AGNS). Having little money and little access to proper painting materials, Maud used any and all materials available to her. She painted with hobby paint and house paint on board, cardboard, dustpans, even baking trays. I could imagine that, if she was a contemporary artist now, these pieces may be considered sculptural in form.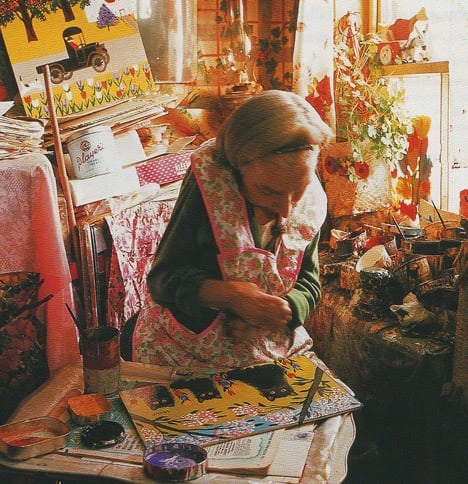 Maud Lewis in her small home in Marshaltown, Nova Scotia (
Source
)
Everett and Maud's house was small—only 16 square metres in area, consisting of one room with a sleeping loft upstairs (
AGNS
).They had no electricity, and no plumbing their entire lives. A poor couple, Everett supported them selling fish while Maud sold her paintings and cards. Maud's rheumatism worsened as she got older, and so spent most of her time painting at the window, advertising her pieces through a roadside sign. Maud's work, though locally known, sold for very little most of her life.
The most she ever received for a painting was $10. Despite Maud's secluded life, she clearly understood visual composition and colour theory, as the
AGNS
points out:
"Although she was not a formally trained artist, Maud's work demonstrates that she had a strong sense of composition, learned from close observation of any visual material that came her way–postcards, calendars, greeting cards…Her early paintings are quite complex in arrangement as she tackles harbour scenes, rolling farmland and countryside."
Recognition and fitting payment for her work came much too late—after a CBC TV broadcast and multiple newspaper stories about the folk artist in 1965, Maud fell and broke her hip; her health declined and although she was getting requests
for paintings from people all over the world, it was difficult for her to acquiesce (
Artist Biography Database
). Maud passed away in 1970, having lived most of her life in poverty and with difficult health problems. As is the case with so many valuable artists unrecognized during their lifetime, Maud's work now sells for upwards of hundreds of thousands of dollars: money she and her husband were never able to use to help bring them self out of poverty. Despite her struggles, she seemed to have a joyful outlook and transcended the circumstances of her life with a rich archive of "bright and evocative paintings" (
Triad film productions
).
The AGNS not only has a large collection of Lewis's work, but they've also reconstructed and preserved her small home from Marshaltown, Nova Scotia, which had been adorned with years of painted decoration. Maud had, during their marriage, painted most of their home with decorations of birds, flowers and insects.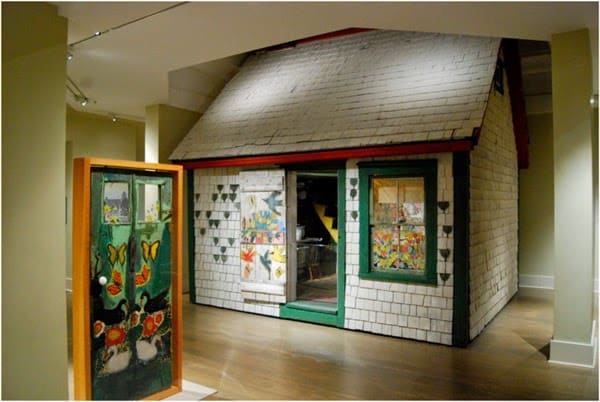 The house as it appears in the Art Gallery of Nova Scotia (
source
)

Caption: The interior of the Lewis home (
source
)
After Maud's death in 1970, and the death of Everett in 1979, the painted house began to deteriorate. A group of concerned citizens from the area started the Maud Lewis Painted House Society, their goal being to save the valued landmark. In 1984 the house was sold to the province of Nova Scotia and put in the care of the Art Gallery of Nova Scotia (
AGNS
). A testament to the importance of community and the local artist, the little house reconstructed in the gallery space is a wonderful sight.
Maud's work reflects a make-do aesthetic, one which is culturally relevant to settler generations of Nova Scotia.