The Saskatchewan Craft Council is pleased to present Other Artifacts, an exhibition of fine craft from Newfoundland artists Michael Flaherty, Susan Furneaux, and Philippa Jones.
Michael Flaherty integrates historical ceramic decoration with the functional element of bicycle tires. Like craft, bicycling is, for Flaherty, "rooted in self-sufficiency, ethical awareness, and resistance to the mainstream." From one perspective the result is a non-functional bicycle tire; from another perspective, this fine work is an allegory of moral consumerism.
Susan Furneaux tells stories with hand-made dolls, inspired by natural history, folklore, and the Newfoundland landscape using natural dye and historic stitching techniques. Furneaux considers how mythical creatures such as fairies would navigate living between Newfoundland forests and occupied urban communities.
As a multi-media fine craft artist, Philippa Jones' diverse art practice combines printmaking, interactive installations, and pen and ink. Central to Jones' work is the exploration of fabricated realities and myth making, seeking to celebrate inquisitiveness and imagination, as well as engage with difficult topics such as mortality.
The strength of these three artists' work is supported by their drive to respect imagination. One might argue that the duty of art and craft is to construct realities for our consideration or use. As an audience, we feel the value of imagining the impact of something new or different in this exhibition; we are all invited to ask "what if?"
— Stephanie Canning and Maia Stark, Exhibitions and Education Coordinators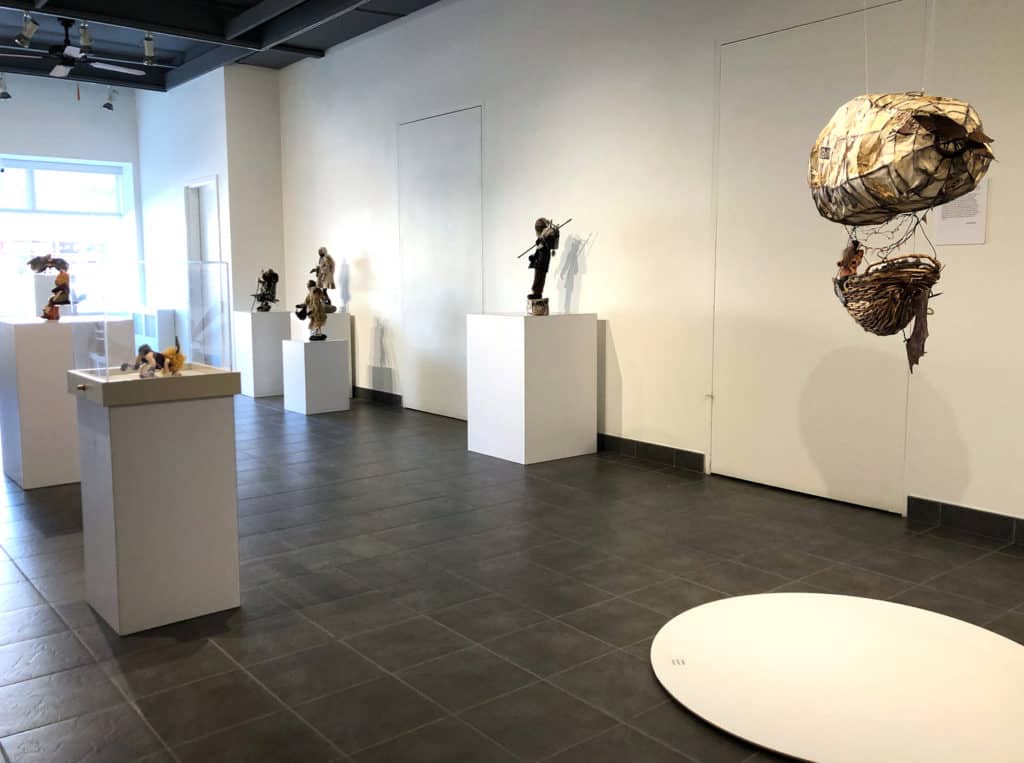 Artist Statements
I am a ceramic artist who has rarely used surface embellishment in my pottery and sculpture; so when I was determined to make new works in clay about bicycles I decided to steer in a new direction.
Looking at patterns of bicycle tires I was inspired to integrate geometric elements from historical ceramic decoration with the functional elements of the tires. Symbols, dots, lines, and imagery complement sidewalls, studs, and treads. Bicycling is the craft of transportation: it is a self-consciously deliberate method of movement, an alternative to the mainstream, and resonant with ethical and activist overtones. In a world of automobiles the act of riding a bicycle can be a protest in the same way that a handmade vessel protests the disposable coffee cup from the drive-thru window. If the category of craft were a 21st Century construct instead of a 19th Century one, then bicycling — as an example of combining the practical and the meaningful — would sit as comfortably among the craft genres as pottery and textiles do now. As a ceramicist and a cyclist I look to make these connections apparent.
My studio practice is informed by the cultural and natural history of Newfoundland and Labrador.  I live at the edge of the boreal forest on the Avalon Peninsula. It is the source of my imagery, inspiration, and materials.
The area is full of magic and wonder ­— belief in fairies was still fairly present in my grandmother. Like many of her generation, growing up in rural, pre-confederation Newfoundland, the fishing class believed as strongly in fairies as they did in the teachings of the church. Fairies, known by many names, were blamed for much of the unexplained malicious happenings that transpired outside of the safety of the community. My interpretation of these little people is as they might appear today: opportunists living in the zone between forest and habitation, safer as their existence is no longer recognized as it once was. Easily slipping in and out of the garden to steal small treasures; assimilating each piece and adventure into their own culture.
Where You Were There Is a Hole in the World
To truly embrace life we must accept our mortality. We must value each fleeting moment and dwell in both possibility and the inevitable. Through this series of works, I look at animals as fragile, organic creatures. Unable to escape from the progression of time, they all succumb in moments that are unique. They are vulnerable, but their essence remains resolute. Working with watercolour and ink, the suggestion of translucence and impermanence are innate in the medium. I seek to reflect both time and light, utilizing the contrary nature of the medium, at once unpredictable and refined.