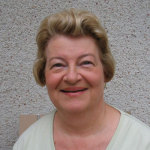 Since girlhood, I have been interested in pressed flowers and leaves, and in adulthood, when my children were older, I began using pressed flower items to make gift cards to give away to family and friends. There was lots of trial and error back then as I learned to hone my craft!
In 1997, at my sister's suggestion, I began consigning pressed flower cards in two sizes, various sized pictures, bookmarks and magnets. Items are now available for sale in several Regina and surrounding locations and have also been sold from the Maritimes to B.C. I have had some success attending pre-Christmas Craft Sales. Most of the pressed flowers and leaves I use are grown each summer in my garden, with many started from seed. What began as an enjoyable hobby, has now become a profitable home-based business. I am still amazed people are willing to reimburse me for something I can do so easily and find so enjoyable. I appreciate the public's ongoing support.
In 1961, I entered Grey Nun's Hospital School of Nursing following high school and graduated with an R.N. diploma in 1964. I worked in the nursing field for 40 years and retired in 2004. I celebrated my 50th anniversary from graduation with classmates in 2014. In 2000, for marketing purposes, I formed my own company, Garden Memories by Carol, and in 2010 became a juried member of the Saskatchewan Craft Council.
I enjoy preserving the beauty of nature. In particular, placing my garden flowers/leaves into a permanent display to be enjoyed for posterity in each item I make. Sharing this beauty with others through the ongoing sale of my work gives me great satisfaction and joy. I enjoy all crafts, gardening and volunteer work through church and community. I have been singing Baritone with the Sweet Adelines, Prairie Gold Chapter, in Regina since 2003 and in Grace Lutheran Church choir. In 2005, I self-published my biography in a book entitled "S.W. Seventeen: A Prairie Girl Remembers," which has gone into a second printing.