1950 – 2018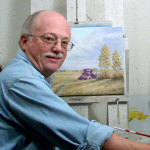 Dan Reid was a self-taught Western Canadian artist who spent all of his life on the prairies. Dan grew up on a farm in Saskatchewan which instilled in him an appreciation for the ever-changing moods of the prairie landscape and its beautiful open skies. Dan was able to vividly capture these scenes through his artwork. His areas of focus included grain elevators, prairie harvests, farmyards, trains, and antique and classic cars. Many of his paintings provide a nostalgic glimpse into Canada's past.
Dan regularly attended various car, art and train shows in Saskatchewan and Alberta with his artwork where he always enjoyed reconnecting with old friends and meeting new people. Dan was often seen at local car shows and driving around Saskatoon in his yellow 1931 Chev street rod. Dan was a proud member of the Saskatoon Antique Auto Club and was well known to people in many other car clubs throughout the province.
Sadly, Dan passed away in December 2018 leaving behind a loving family, many wonderful friends and countless joyous memories. Dan's legacy will live on through these memories and his vast collection of artwork which capture his love of the prairies, nature and classic cars.