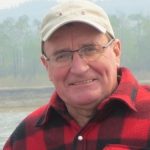 Doug was born and raised in Saskatoon and attended Aden Bowman Collegiate and Kelsey Institute of Applied Arts & Science (Renewable Resources). He graduated in 1976 and was stationed in Glaslyn and Buffalo Narrows working as a conservation officer. He always had an incredible interest in the outdoors and all the flora and fauna. DT was an Artist/Sculptor (who had endless imagination), Amateur Paleontologist, Naturalist, Museum Tech, Expert Taxidermist, Critic, Conservation Officer, Skeptic, and Arborist (self taught with the scars to prove it). Doug was a forest fire fighter in Buffalo Narrows with his faithful pal Jigger the Wonderdog. Canoeing was one of his many passions that he shared with Maryanne. Together, they would take people on amazing adventures. He and Maryanne also worked on many important museum installations in Canada. Grey Owl's Cabin in P.A. National Park is one. DT lived life to the fullest and we will miss him very much. Doug is predeceased by his parents, Wallace and Marion Taylor. He is lovingly remembered by his partner Maryanne Janssen and siblings, Rodney (Maureen), Cindy (Craig) Verhelst, Shelley McMillan, numerous nieces and nephews and one grand nephew.
To learn more, or to get even, come to the open mike at his celebration of life on Saturday May 12th, 2018 at 2:00 PM at the Livelong Community Hall. https://goo.gl/maps/8fYs4nzo9qK2
Memorial donations in memory of Douglas Taylor may be directed to St. Walburg Pantry, Ecumenical Community Food Bank, St. Walburg SK S0M 2T0. Funeral arrangements for Mr. Douglas Taylor have been entrusted to Trevor Watts of Eternal Memories Funeral Service & Crematorium.