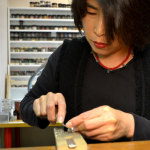 Eun-Kyung Jung lives in Regina, Saskatchewan. She was born in Seoul, South Korea. She received her BFA from the College of Fine Arts at Hong-Ik University in Seoul, and her MFA from the same university. She has been working as an art instructor for many years and previously worked as a shoe ornament designer, shoe color assembly specialist, and jewelry designer.
Her major was metal craft art. In addition to this primary discipline, she has studied drawing, design, western and oriental painting. As well, she holds a professional certificate in precious metal clay instruction from the Art Clay World Korea headquarters. Her creative expression draws from diverse forms in her environment. Her work is inspired by joyful memories, comic anecdotes, and nature. This inspiration is transformed into organic and geometric shapes.
She loves designing for people's personal aesthetic sense. Currently, she enjoys working as a full time artist and instructing at Neil Balkwill Civic Art Centre in Regina.