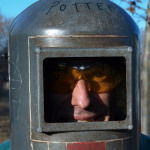 I work with the energy of space and form. My pieces have a meditative quality, rooted in formalism and project a lyrical, fresh approach in the world of abstract sculpture. I offer sculpture that is permanent, authentic and contemplative.
Leslie Potter has an ethereal relationship with the steel he works with for his welded sculptures and wall reliefs. Each sculpture speaks with a particular voice, and engages its surroundings and the viewer in conversation about life and all its mysteries.
Potter has had a long and varied career as a sculptor. After numerous public commissions, his work is a well recognized part of the urban landscape in Saskatchewan.
Gallery representation:
Art Placement Inc.
, Saskatoon, SK
Ken Segal Gallery, Winnipeg, MB