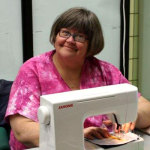 Louise Perrin is an internationally-juried mixed media fibre artist whose original fibre art has been exhibited in juried shows, art shows and galleries locally, nationally and internationally; been published in books; and shown in videos.
"I grew up in a military family that was mostly posted to Western Canada. I always tried to adapt to my current surroundings and to 'bloom' where I was planted. As an adult, I was a member of the Canadian Forces for about five years, posted to Maritime Canada bases. After spending close to thirty years in the Maritimes, mostly in the Annapolis Valley, Nova Scotia, I returned to my beloved Prairies in late 2004. My work is strongly influenced by the prairies vistas and unending skies surrounding me.
My grandmother Perrin was my quilting inspiration – she was part of a sewing circle in rural Nova Scotia that met in each other's homes. I remember the weight of her quilts, made with cotton batting, when I slept when we visited her. I have two quilts that she made me before she died in the late 1970s. I started as a traditional quilter when I lived in Paradise, Nova Scotia in the early 1980s. As a beginning quilter, I often designed my own blocks seldom following the pattern as written. As time went on, I began using my own photographs of local landmarks and scenery as the basis for my patterns, developing my own techniques for doing so. This is the type of work I exhibited nationally and internationally before moving back to Saskatchewan in late 2004.
I started dyeing in the fall of 2009 after I started Skyswept Designs as a full time art business in July 2009. Before that, I didn't think that I could do dyeing because of the chemicals involved. I have had environmental illness since 1994 and have to be very careful about exposure to chemically-based and scented products. I knew I could use fabric paints, by using an organic vapour mask, because of an Artist Retreat I went to in 2005 in Montana.
I bought a small dyeing kit and had a 'play day' with some fibre artist friends in the October 2009. I loved the dyeing and didn't suffer any ill effects from the process. I've been dyeing ever since.
Over the winter of 2009-2010 there was talk online among art quilters about snow dyeing. I was in the middle of trying to meet a deadline so I would not let myself try snow dyeing until I had had this piece finished and sent on its way. I did my first snow dyeing on the first day of spring 2010. I was hooked! The dye patterns created by this technique are simply amazing. It has since become my primary dyeing process. Usually the length of the Saskatchewan winter allows me lots of time to snow dye a year's production, but in 2011, winter was late getting started and we only had fresh snow a few times. That meant I ended up having a snow dyeing marathon in late February and early March 2012, before the 'big melt' happened and I would be out of snow.
I teach process-based classes at my studio, at the local Art Gallery and as a traveling artist and artist in residence in schools, parks and other locations. I love to create in unusual locations. I have been known to sew in a library, in a laundromat, in a tent at a campground, outside beside my car, at a hunting lodge, and at an oil patch camp where I was working as a cook. I have what I call the 'traveling' studio which can carry my portable sewing machine and other necessities needed to allow me to create wherever I go. At this point I have been quilting for over 30 years and sewing for much longer than that. As I learn new skills, I incorporate them into my current work."
Gallery Representation:
Traditions Handcraft Gallery, Regina, SK
Grasslands Gallery, Val Marie, SK
Cumberland Gallery, Regina, SK
Memberships:
CARFAC SK
Fibre Arts Network
International Quilting Associates
Studio Art Quilt Association
Textile and Fiber Art List