January 30, 1954 – May 27, 2017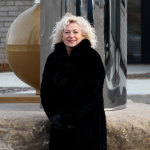 "Every waking moment is a constant source of discovery; it's a blessed state of being that permeates and overshadows every aspect of my life."
Patricia Shiplett is a prolific multi-media artist, specializing in sculpture and mixed media, whose work is held in public and private collections throughout Canada, the United States, and Japan. Her passion for sculpture developed at an early age as her childhood home in North Battleford was filled with original works of art. At Christmas, hundreds of viewers would drive by their home to view the eight foot snow carvings of "The Nativity," carved by her mother.
She received a Bachelor of Commerce degree with honors in Finance and pursued a career in Finance until retirement in 2000. In 1992, she was fortunate to move to London, England where she spent every day attending lectures at the Tate Gallery, the National Gallery and the Cortould Institute of Art and visited the world's largest private collection of modern art at the Satchi and Satchi Gallery. This life-changing experience introduced her to the works of Anthony Caro, Rachel Whiteread, Anish Kapoor, Barbara Hepworth, Gerhard Richter, and many other significant artists of our time. In 2001, she enrolled in a Bachelor of Fine Arts program at the University of Saskatchewan, majoring in extended media and sculpture and her intention is to continue this life-long pursuit of knowledge in the arts until the age of ninety.
Throughout her career she has constantly questioned the relationship between, science, nature and humanity. The "Flow" series, her early modernist experimentations, reveal the delicate and sensuous liquid properties of metal. Trompe l'oeil" and subtle shifts of perceived reality created by the duality of material and corresponding reflection and shadow engage the viewer in the "Curtain" series. Architecturally reduced, cold rolled steel is transformed into a simple lace curtain synonymous with nurturing and warmth of a period long past. "The Gift", a site specific corporate commission, is designed to reinforce through its illusional materiality and placement, the notion of the great responsibility that has been placed on mankind to preserve and guard the life sustaining natural elements of nature. Patrica Shiplett's "Light Works" can best be described as elaborate and exquisite mini architectural environments that produce a slowed down retinally active viewing experience. Recent articulations of florescent plexiglass produce the elusive, transitory, and ephemeral qualities of light radiating through space.
Patricia's public work is on display at City Hall and The Francis Morrison Library and she was recently awarded the Centennial Sculpture commission for Blaine Lake, Saskatchewan. She produced ephemeral works including video and sound installations for her solo exhibition entitled "Optical". Starting at The Chapel Gallery in North Battleford in 2013, this exhibition traveled throughout Saskatchewan to many other public galleries.
VIDEOS