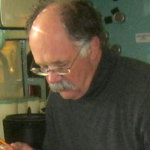 Paul Lapointe is a full-time multimedia artist working in Batoche. Over the course of his career, he has worked with various media, including oil painting, drypoint etching, woodblock printing, papermaking, jewellery making, and assemblage & sculpture techniques.
Paul grew up in Northern Saskatchewan, where his mother worked with embroidery and his father practiced woodworking. His earliest exposure to art and craft comes from the natural world, and the work of his parents and First Nations artists in Northern Saskatchewan. He continued to pursue and perfect his craft at the University of Saskatchewan and the University of Washington, in Seattle.
Paul's travels across the North inspire his artistic practice – he captures the beauty of natural forces in his plein-air paintings, and his sculptural work features objects from the natural landscape, including wasp papers, feathers, animal hair and quills, and dried leaves and flowers.
CONTACT
Email:
paul.lapointe@sasktel.net
Phone: 306.423.5227
Location: Riverlot 28, 4 km north of the Batoche Historic Site, on the banks of the South Saskatchewan River
Gallery Representation:
SCC Fine Craft Boutique
, Saskatoon, SK
Handwave Gallery, Meacham, SK

Studio:
701 – 28th St. W, Saskatoon, SK (by appointment only)