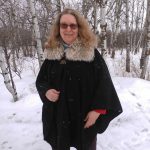 Sheila has sewn for decades, taught by her mother. She did DNA research on the genetics of coat color in dogs and cattle while a professor at the University of Saskatchewan. This lead her to work with fur, once she retired. She has learned some furrier skills in Germany and Finland, but most by reading and practice. She is happy to share this knowledge with others in her home studio west of Saskatoon.
Sheila is interested in promoting the use and wearing of natural fur in honour of our Canadian fur trapping heritage and in respect for the many northern peoples who still depend on fur as part of their livelihood. Thus "Wear Our Heritage" has become her logo.
She uses fur from Canadian wild animals. She only purchases fur that is "garment tanned" to ensure maximum softness and quality. Many pelts are acquired through a special program whereby Indigenous youth are paid full market price, even if the pelt has some small holes or imperfections.
The process of design is begun by studying a particular pelt. The pelt is her inspiration. Different furs lead to the creation of different pieces. The colors and length of fur vary among different individuals and so no two pieces are ever quite the same. She tries to use the entire garment-tanned pelt, often incorporating the tails into various pieces. She chose to work with wool (often 80/20 wool blends) to maintain the "natural" fibre aspect of the pieces, and to provide the warmth expected of winter clothing.
You can typically find her work at juried craft shows in the Saskatoon area. She does not do custom orders.
CONTACT
Wear Our Heritage