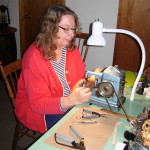 For many years, I have fashioned clothing and accessories from fabric as my favorite pastime, taught as a child by my mother. Professionally, I studied the genetics of fur color and gradually became interested in incorporating natural fur into my sewing. I am committed to using Canadian fur, predominantly wild fur. I am interested in promoting the use and wearing of fur in honour of our Canadian fur trapping heritage and in respect for the many northern peoples who depend on fur as part of their livelihood. Thus Wear Our Heritage has become my logo.
I chose to work with wool (often 80/20 wool blends) to maintain the "natural" fibre aspect of the pieces, and to provide the warmth expected of an item for winter use. I create wool hats or capes to support the fur, more than trim the garment with fur.  I try to use the entire garment-tanned pelt, often incorporating the tails into various pieces. Different parts of the pelt inspire different pieces.
You can typically find my work at the Prairie Paladin Medieval Market & Faire at the University of Saskatchewan, at the Western Development Museum Christmas Craft Fair and Sundog Arts & Entertainment Faire in Saskatoon, and at Evergreen Artisan Market in Prince Albert. I do not do custom orders. However, I am willing to help other artisans who want to learn to work with natural fur in my home studio west of Saskatoon.
CONTACT
Wear Our Heritage
Memberships: 
Artisan Canada – Member Profile