Submitted by: Maia Stark, Exhibitions & Educations Coordinator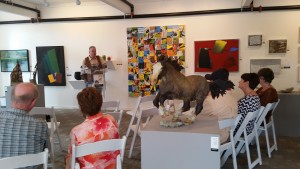 Back in March, during the first two weeks in my role as Exhibitions and Education Coordinator, I flew south to Scottsdale, Arizona to represent the SCC at "Saskatchewan," a temporary gallery exhibition focusing on Saskatchewan art. This exhibition came together out of a unique partnership with SaskGalleries, Creative Saskatchewan, and the Saskatchewan Craft Council.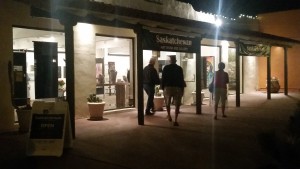 Our location was set in the Scottsdale Arts District, which boasts over 100 galleries carrying painting, photography, sculpture, and craft—both contemporary and traditional, from emerging, mid-career, and established artists. Though there was a variety of artworks to be seen in the Arts District, I feel that the Saskatchewan exhibition stood out among these galleries for two reasons: 1) "Saskatchewan" was a pop-up gallery, and our new, though fleeting, presence sparked peoples' interest; 2) Saskatchewan artwork stands out! I remember some visitors, who had never been to Saskatchewan or the prairies, discussing the melancholic mood of many peices—notably landscapes. Another commented on the "quietness" of the works. Perhaps there's something to be said about the landscape's effect on Saskatchewan artists (regardless of whether or not they themselves produce landscapes).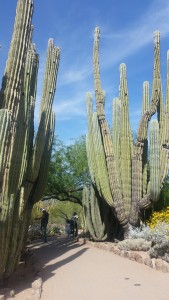 I also encountered many Canadian 'Snow Birds,' who were excited to see works from home: they recognized the names of many of the artists, the rolling prairies, the names of towns like "Findlater," and were curious to learn of the work of emerging  and mid-career artists. The Saskatchewan Gallery represented painting, photography, fibre, ceramics, jewellery, and contemporary sculpture. SCC members were present throughout, not only represented by the Saskatchewan Craft Council, but through other Saskatchewan galleries such as Slate Fine Art Gallery, Mata Gallery, Hand Wave Gallery, and Traditions Hand Craft Gallery. June Jacobs, Zane Wilcox, Anita Rocamora, Martha Cole, Michael Hosaluk, Melody Armstrong, Mel Bolen, Don Hefner, Jeanie Andronyk and Mary Lynn Podiluk are just a few of the SCC artists whose work was in the exhibition.
Each Thursday night, the Scottsdale Arts District holds an Art Walk from 7 – 9pm, which we participated in. Despite the nighttime heat, our receptions during the ArtWalk were packed, and visitors commented on the high quality of the artwork (and our refreshments from Acadia Farms). One visitor commented to me that our pop-up gallery was the best stop during the ArtWalk that they had attended in years. The two weeks I spent in Scottsdale were full of heat, Cacti, and much praise for the quality, creativity, and variety of Saskatchewan artwork.