In 2015, the SCC is celebrating its 40th anniversary. In 1975, fifty-seven Saskatchewan artisans organized themselves into a determined force with a single voice and a common purpose. That purpose was to promote and raise the profile of Saskatchewan artisans, improve the quality of work produced, and facilitate communication among the membership. Each of these people donated just $5 to this cause and the Saskatchewan Craft Council was born. You can read more about our history here.
Our board members and staff have come together to conduct interviews with as many of these founding members as we can, in celebration of this milestone. We are interested in these founders' thoughts around why we came into being and their insights for the future.
Annemarie Buchmann-Gerber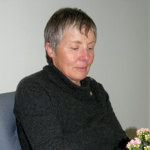 Annemarie Buchmann-Gerber moved to Canada from Switzerland in 1971, and began her art career. She spent her early years in Prince Albert, and now lives in Saskatoon, and is still a current SCC member. She studied Fine Arts at the University of Saskatchewan, graduating with a BFA. Annemarie has served in various capacities on the SCC board and also served on the Board of the Mendel Art Gallery for eight years. Annemarie creates mixed media artwork, focusing on textile and fibre materials and techniques.
What compelled you to throw your $5 and yourself into creating a new organization dedicated to supporting craft?
I arrived in Canada in 1971 from Switzerland and moved to Saskatchewan in 1972. I was a young Home Economics Teacher, newly married, with an interest in art and producing tapestries. Living in Prince Albert, I worked in isolation. There wasn't much sympathy for my modernist art endeavours.
I was thrilled to discover an organization like the Saskatchewan Craft Council was in the making – devoting its existence solely to excellence in crafts. Making the trip to the founding meeting in Saskatoon and spending $5 might have been the most important and best decision for me. It shaped my life positively and gave me the direction to take in my new, chosen country.
What are you most proud of over the last 40 years?
The SCC has developed and kept its good reputation as the Saskatchewan organization supporting "Excellence in Craft". SCC established a standard for craft markets and craft exhibitions. "Dimensions" (SCC's biennial, open, juried, touring Fine Craft exhibition) has been and continues to be the flagship for encouraging excellence in craft all around.
My personal involvement with SCC included: attending the 1980 World Craft Conference in Vienna with seven other delegates from Saskatchewan; representing SCC at the Canadian Craft Council; serving on the SCC Board; being a juror for Dimensions; as well as winning various awards over the 40 years of Dimensions.
What has disappointed you?
I am less enthusiastic about the markets. In my opinion, the standard of quality of craft has been compromised.
What are your hopes for the future?
Supporting and having more high quality and varied exhibitions; high quality in design, execution, materials, content and, if need be, in function; high standards where art and craft is immaterial. SCC offering more possibilities to encourage innovation to flourish!
What are you doing to celebrate Craft Year 2015 and our 40th anniversary?
I am off to a three week retreat (Writers/Artists' Colony) where I will be working 7 days a week in a studio and have a chance to mingle and exchange thoughts and whatever with other creators. It's the most productive and gratifying time of the year for me. This program is supported by the Saskatchewan Writers Guild and CARFAC. As in the past years, I just continue to work, create and live.
Any other thoughts?
My life in Canada has been shaped by the Saskatchewan Craft Council and its craft community, as well as the Saskatchewan Visual Arts Community. I call many craftspeople and artists my friends and colleagues. It has been a pleasure and exciting being a member all these years and seeing everybody develop and grow, as well as watching SCC change or not. It always helps to have a professional organization supporting your endeavours and its community. Keep up the good work.