Founder's Interview
In 2015, the SCC is celebrating its 40th anniversary. In 1975, fifty-seven Saskatchewan artisans organized themselves into a determined force with a single voice and a common purpose. That purpose was to promote and raise the profile of Saskatchewan artisans, improve the quality of work produced, and facilitate communication among the membership. Each of these people donated just $5 to this cause and the Saskatchewan Craft Council was born. You can read more about our history here.
Our board members and staff have come together to conduct interviews with as many of these founding members as we can, in celebration of this milestone. We are interested in these founders' thoughts around why we came into being and their insights for the future.
Wayne Morgan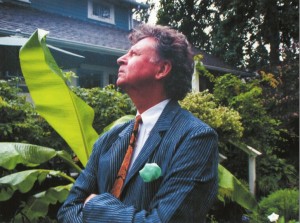 Wayne Morgan grew up in Weyburn reading, drawing and staring at the night time stars.  By 1961, he entered Regina College to study art with the Regina Five. Upon exit from the now University of Regina, he became a Pilot Project of the Saskatchewan Arts Board to test the idea of a Community Resident Artist in Weyburn where the first Arts Council had been established years before. The program continues today.
By 1970, Wayne was Curator of the art gallery at the Regina Public Library, which had been exhibiting art since 1944 espousing the ideas of John Cotten Dana. Over his fourteen years there, Wanye expanded the gallery and staff, professionalized it, named it the Dunlop (after Marjorie Dunlop, Chief Librarian) and gave it a national reputation. His attention to popular culture and folk art fed the Funk ceramics and painting by Fafard, Cicansky, Yuristy and Thauberger. Given the library location and Morgan's proclivities craft, photography, design, architecture were all treated equally with the traditional arts.
In 1985, with the change of Provincial Government, Morgan's partner Shari Ingram, then CEO of the Western Development Museum, decided to return to Federal Service at the National Museums Corp. and Morgan took on the Chief Curatorship at the Winnipeg Art Gallery. By 1985, Wayne became an independent curator and coincidentally joined western artists Russ Yuristy and Don McVeigh who had also arrived in Ottawa the same week.
Since 1985, Morgan has been working on mostly popular culture projects and projects such as this, when his past arises and is able to contribute. He is currently working through 54 years of slides that could tell a story of Saskatchewan, and projects on illustration, folk art, and Palmer Cox, on which he is the expert. Wayne also travels widely to see art and buys the odd piece.
What compelled you to throw your 5$ and yourself into creating a new organization dedicated to supporting craft?
My then spouse, Norma, had been hired to do a survey commissioned by the then Sec of State to assess the state of crafts in the country. She was responsible for Sask and perhaps a bit more. Every few years craft production was seen as a source of an economic boost, regional identity and some sort of societal 'savour.' The great Lea Collins of the Saskatchewan Arts Board once said to me (something I would not understand for years) "Oh no, not another crafts will save the world thing."
Norma's research made it clear that Sask and other provinces should gather together and build an organization. Only the Maritimes had anything and it was a bit clumsy in its design. The 1970s were a period of professionalization, if you will, across many arenas in the cultural sector.
I directed the Dunlop Art Gallery at the time and never gave a second thought to the division of the arts, treating craft, photography, etc. equally with so called fine art. This gave me a fair amount of street cred since the Mendel and the Mackenzie were so bound up and mis-managed at the time. So I was able to help the birthing of the SCC, but tried not to get into any conflict of interest situation.
What are you most proud of over the last 40 years?
Well, I exhibited many craft artists and helped create a critical environment. And it was a critical environment back then. I remember that when Randy Woolsey returned to Canada from Japan so that his kid could get a Canadian education, he showed up at the Extension Department at U of S in Regina,  a really important part of Sask Art History and shocked everyone when he took out each piece from a kiln and after studying each destroyed all but one. People were shocked but it escalated the critical environment. Additionally there was a guy who was rather taken by Micheal Cardew and his African work in that one should make everyday craft work as cheaply as possible. In socialist Sask this was well received . He was always thrilled when he could lower his prices. I like to think my critical eye helped.
One year we at the Dunlop hosted the Annual Meeting and exhibition of the Canadian Crafts Coalition with a grand reception at Meika's Restaurant nearby.  Today the CCC seems not to be on the horizon.
I did several quilt exhibitions, both historical and contemporary and introduced many craft artists to the world. Pamela Perry who worked for me and is a founding member (not yet found), did a touring exhibition of Sask Weaving. My files indicate I did 36 craft exhibitions in 15 years. As my research continues into democratic access to the arts, craft continues to play a role.
I thought the early 1990s national tour I curated for SCC and circulated across the country was pretty good.
What has disappointed you?
The fine arts have taken over the methods of craft just as the novel has taken over Sci-fi and the comics now have taken over the movies.
Some craft manifestations are just too over the top, unaware of design and functionality. I understand the art end of craft and applaud it. Crafts seem to have lost their way and are no longer leading. But to be fair, I don't follow as closely as I once did.
The loss of Heather Smith at Moose Jaw is not good for craft. Perhaps we do not have curators who care anymore. Certainly in Sask, in my time, it was about developing and uncovering regional identity. My generation, as we searched out our art history not yet covered, were keen to say to those who saw us a 'fly over' province, there is a lot here.
Indeed museums do not help with a critical environment as they should. Recently we saw a UK craft artist, Clare Twomey, do an installation at the Gardener in Toronto (Oct. 4, 2014 to Jan 4, 2015). A review  in BorderCrossings (#133) simply describes it. Simply describes it! Have to talk to Robert Enright about it. The exhibition was so weak… and the idea of it tiresome. When interviewed by survey people in the show we said, " Can you spell a t t e n u a t e d ?"  Hopefully the Moorcroft show currently on view will be better. And useful. Some years ago the Gardiner did a shabby exhibition on Studio Ceramics mostly avoiding the west. Sometimes it seems that the hard work we did is for nought.
What are your hopes for the future?
I have little. I can only see retrospective exhibitions that can bring forward important histories will revive the current situation. Perhaps Ikea and others have made craft less viable. Yesterday my wife came home with well designed wine glasses from a grocery store. Unthinkable a few years ago. Good design has entered the everyday and craft has not been able to respond.
What are you doing to celebrate Craft Year 2015 and our 40th anniversary?
Answering your questions.
Any other thoughts?
It might be that with the absence of an avant-garde (in all artistic forms) we are left in a bit chaos. This means one must rely on a finely honed connoisseurship to find the best. This takes courage and time and discipline.
A friend in the USA is a friend and neighbour of the new Director of the American Craft Council. Maybe I will have a chat with him sometime about the future.
Back at the beginning of SCC, my then spouse also edited The Craft Factor.  In forward thinking, she included food as a craft and included recipes in the magazine. A few years ago very tired of the One of A Kind Craft show in Toronto I went back at the pleadings of my wife. The only thing we bought was food, the craft being so dull.