Written by: Emily M. Kohlert, Gallery Assistant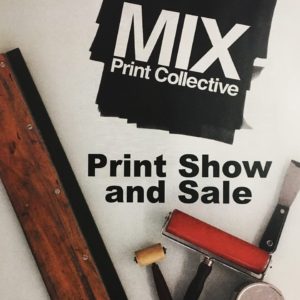 MIX Print Collective is​ the student-run University of Saskatchewan printmaking collective in Saskatoon, SK, with students focusing on screen print, woodcut, linocut, intaglio, lithography, and other printmaking techniques. It was created in 2015, born out of a strong community of new printmakers with passion to do exhibitions outside of the university gallery, share printmaking production knowledge with the public, and to raise money for studio improvements within the printmaking department.
The collective created an annual fundraiser for the printmaking department facilities after the large format printer, used for screen printing prep, broke down and was a costly fix. The idea to do a print show and sale made sense, as there was a lot of diverse work coming out of the studio. I was a printmaking student at the time, and worked with Yonina Rollack, classmate and collective President (2015-2017), and John Graham, ​Professor and the Chair of Printmaking/Digital Media​, to put together the first MIX Print Show & Sale.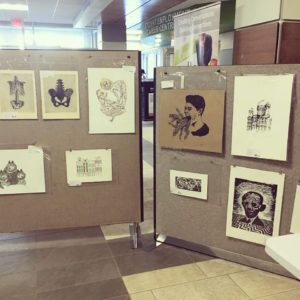 The show offers a multitude of original artwork for viewing and sale, and is open to the public. It takes place in Upper Place Riel each Spring and features a wide array of screen prints, lithographs, etchings, relief prints, collagraphs, monotypes, and more.
"It was so successful that we decided to do it every year. Everyone was on board," Rollack recalls.
Prints generally range in price from $20 to $150, with half of the funds going directly to the artists and the other half to the studio to cover expenses, maintenance, and repairs to the equipment, as printmaking can be an expensive process. This year they have 25 artists participating, and accept cash, debit, and credit as payment methods.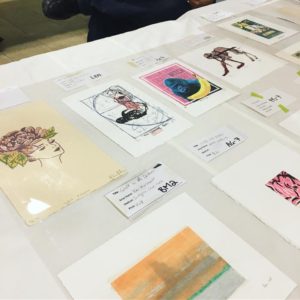 There is also an educational component to the sale, where customers can look at some of the tools used in various printmaking techniques, and learn about the effort that goes into the craft. MIX members will be present to run the sale, and answer questions about the processes.
Since the group's incarnation, members have changed and moved on as they graduate, but the original mission of the group still stands strong: to validate student work with opportunities to show and sell prints while striving to raise money for improved facilities and equipment in the printmaking department.
Geoff Grauer and Laenie Nix are this year's project leads for the sale, as well as VASU (Visual Arts Student Union) has been lending a hand this year.
Nix says, "As always, the diversity we have received in our submissions is astounding, and I believe our artists will have something available for everyone, if they take the time to look around! When it comes to price, content, style, colour, and size we have it all!"
This year's sale will be open March 18th to 22nd, 2019, from 10 am to 4 pm each day located in Upper Place Riel at the University of Saskatchewan. Enter the main building of the U of S by the bus loop, and you'll find this dynamic show. It's a fantastic opportunity to support budding artists and the printmaking department, as well as take home some incredible creative work.
Follow MIX Print Collective!
Facebook: Mix Print Collective
Instagram: @mixprintcollective