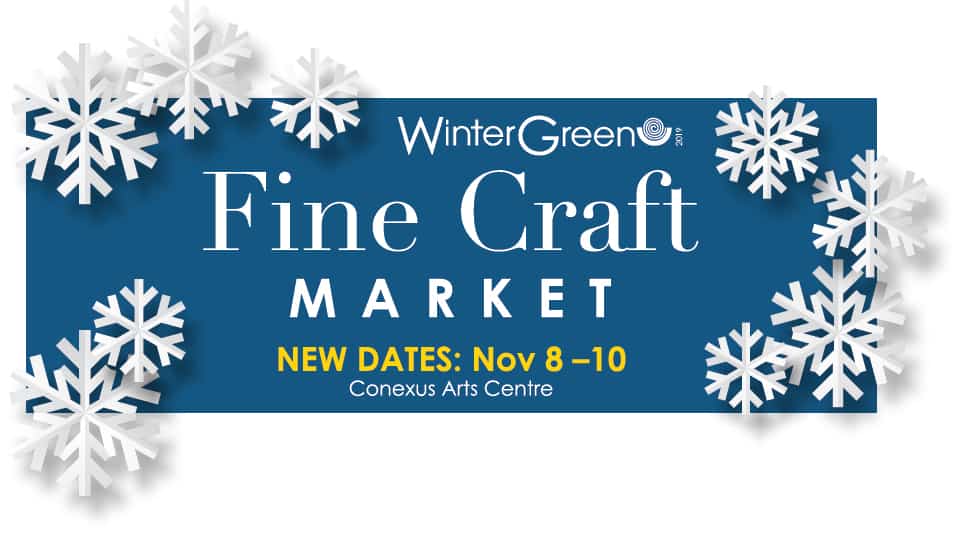 LOCATION
Conexus Arts Centre
200 Lakeshore Drive
Regina, SK
HOURS
Friday, November 8 • 1 – 9 pm
Saturday, November 9 • 10 am – 6 pm
Sunday, November 10 • 10 am – 4 pm
ADMISSION
Adults (12+) • $5
Children (<12) • Free
Saskatchewan Craft Council's WinterGreen Fine Craft Market is back November 8th to 10th at the Conexus Arts Centre! Featuring thousands of hand-crafted works by new and returning local artists, WinterGreen is a holiday craft market not to be missed!
Our artists' work is skillfully constructed and finished. There are no ready-made kits or assembly-line pieces here! WinterGreen features only authentic, handmade, local craft. SCC markets have set a standard of superior quality that is recognized across the country. We guarantee purchasers at WinterGreen will walk away with truly original, handcrafted artwork.
The market will feature over 70 artists selling gifts of every description, including traditional and contemporary works in clay, photography, sculpture, fibre, wood, jewellery, and glass. This year, we have more than 15 new artists!
NEW DATES
Please note that WinterGreen is one week earlier than usual this year! Don't miss out: make sure to mark November 8th to 10th on your calendar!
SIP AND SHOP
On Friday evening from 4:30 to 9 pm, beer and wine can be purchased from the concession and enjoyed while you shop. Bring your friends and make it a fun shopping evening!
SHOPPING SPREE
We are giving out TWO $300 gift certificates to be spent at WinterGreen 2019!
We gave out entry forms at Art Now: Saskatchewan Fine Art Fair in September. If you received one of these ballots, you can enter the draw in the ART NOW draw box.
With every purchase at WinterGreen, you will receive an entry form for the second draw. Please enter these ballots in the Win a $300 WinterGreen Shopping Spree draw box.
Closing time for entries is Saturday, November 9th at 4 pm. Both draw boxes will be located at the Regina Humane Society booth in the Shumiatcher Room of the Conexus Arts Centre. Prize winners will be expected to spend their shopping spree by 4 pm on Sunday, November 10th. Any remaining amount by the end of the show is forfeited. Prize winners can spend their prize with more than one marketer booth. No change will be given to the prize winner.
GUILD EXHIBITION
At this year's WinterGreen, three Regina-based craft guilds will display a collaborative, public exhibition! The exhibition is non-sale event that showcases the finest works from members of Saskatchewan Woodturners Guild, Regina Stitchery Guild, and Regina and Area Potters Guild. Find them in the Quebec and Ontario rooms in Conexus Arts Centre during the market.
A sampling of WinterGreen 2019 artists, plus additional, useful information: