The Saskatchewan Craft Council runs an Emerging Artist Market Experience Program, which allows emerging craft artists to participate in SCC markets in order to experience the market environment first hand and expand their contacts with the Saskatchewan craft community. This program gives artists in the first 5 years of their professional career the opportunity to participate in an SCC market for a reduced booth fee, without the need to be juried. There is a selection process; however the formal jury process is bypassed in order to introduce potential marketing members to SCC markets.
The following six artists are the Emerging Artists who will be at WinterGreen Fine Craft Market in Regina at the Conexus Arts Centre from November 18 to 20, 2016. Come check out the great work handmade by these talented artists!
Tracy Bjorgan

Tracy Bjorgan is a new emerging self-taught painter from Regina.  Although she comes from a family of artists, Tracy was busy pursuing her passion for microbiology, being fascinated by the unseen world of microbes from an early age.  In stark contrast to her science background, Tracy recently began experimenting with painting and has discovered the wonderful world of art.  Her paintings are all about color and energy.  She works with acrylic on canvas and likes to create bold and dramatic abstracts.  Tracy finds a similarity between the mystery of what will emerge on the canvas to the mystery of discovering the invisible world around us.
Website: www.tracybjorgan.ca
Email: tbjorgan@sasktel.net
Facebook: Abstract Acrylic Paintings
Mark Budd

Mark Budd is a Treaty 4/Saskatchewan-based ceramic artist. Drawing equal inspiration from the rich ceramic histories of Asia and the rolling hills and windswept plains of his Prairie home, Mark creates rustic, one-of-a-kind utilitarian objects under the name Roundhill Pottery.
Each handcrafted piece is fired in either a wood or soda kiln. These firing techniques are inherently risky: The extreme temperatures and volatile atmospheric conditions inside the kiln can result in costly losses, but tend to produce a wide range of distinctive and rich surfaces, often reminiscent of polished stone or lichen.
Website: www.roundhillpottery.com
Email: roundhillpottery@gmail.com
Facebook: Roundhill Pottery
Instagram: @roundhillpottery
Shelby Lund

Shelby Lund has been working in the visual arts for approximately 8 years. Although Shelby has studied drawing, painting, printmaking and photography, she works primarily in the medium of painting and printmaking.  Her art ranges from brightly colored, abstract monotypes to representational oil paintings.  Drawing inspiration from past and present experiences, the subject matter of Shelby's work often relates to nature, the environment, and our human relationship with the environment.
Borrowing methodologies found in printmaking, the monotypes available at this year's WinterGreen are made by using various paint roller techniques to apply ink to Plexiglas tiles. These tiles are then imprinted onto paper. By using a variety of color combinations and roller marks, each monotype Shelby creates is truly unique, with no two prints being the same. Recently, Shelby has begun to experiment with hand embroidery to achieve another type of line and texture within her work. Lastly, Shelby personally custom frames each monotype to enhance the originality of each piece.
Shelby was born and raised in Saskatoon, Saskatchewan, where she continues to reside. She received her BFA with great distinction from the University of Saskatchewan in 2015. At graduation she was presented with the University of Saskatchewan Film Society Prize and the Judy Poole Award in Art and Art History. In the fall of 2015 Shelby was chosen as the Saskatchewan winner for BMO Financial Group's 1st Art! Invitational Student Art Competition. Shelby's winning painting was exhibited at the Justina M. Barnicke Gallery at the University of Toronto.  Her printmaking has also been displayed in group exhibitions at the Byward Market Gallery in Ottawa, and in the John B. Aird Gallery in Toronto.
In addition to her website, more of Shelby's work can be viewed or purchased at The Brasserie in Saskatoon or Bella Salon in Regina.
Website: www.shelbylundart.com
Email: shelbylundart@gmail.com
Instagram: @shelby.nicole.l
Dana Rogoschewsky

Dana Rogoschewsky is visual artist in Regina, Saskatchewan. She has her B.E.D in Arts Education with a major in Visual Art from the University of Regina.
Her main focus is on historical and iconic buildings in Saskatchewan. She creates these artworks with different mediums ranging from oil, watercolour and acrylic paint. Her style is often remarks as semi-realistic with a comic-book twist.
Dana is very interested in the story the viewer has with her paintings which go along with each cherished building she paints. She hopes by creating these art pieces she will enrich her community and Saskatchewan's culture.
Website: www.artbydana.ca
Email: artbydana@hotmail.com
Facebook: Art by Dana
Twitter: @artbydana
Instagram: @artbydana.ca
Sheila Schmutz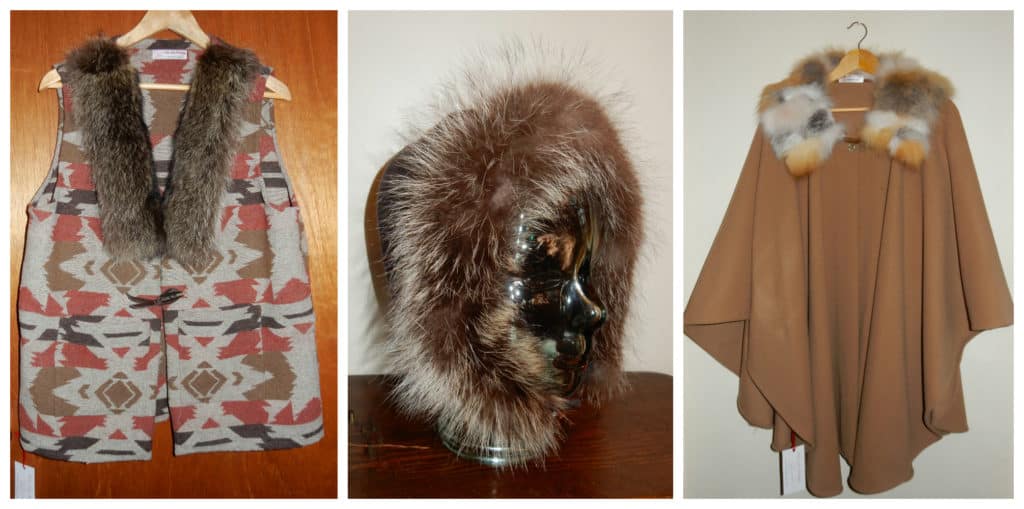 For many years, Sheila Schmutz has fashioned clothing and accessories from fabric as her favorite pastime, taught as a child by her mother. Professionally she has studied the genetics of coat and fur color and gradually became interested in incorporating fur into her sewing. She works out of her rural home near Saskatoon.  Sheila is committed to using Canadian fur, predominantly wild fur to trim her wool pieces. She is interested in promoting the use and wearing of fur in honour of our Canadian fur trapping heritage and in respect for the many northern peoples who still depend on fur as part of their livelihood. Thus Wear Our Heritage has become her logo. Sheila sells only at fall/winter artisan sales.  Her main products are capes with detachable fur collars and hats, but other items such as fur-trimmed vests, muffs, etc. are also often included in her booth.  Sheila's website also contains sources for natural fur and products made with fur, as well as some instructions on how to incorporate real fur into clothing in an effort to revive and spread this craft.
Website: munster.sasktelwebsite.net/Fur.html
Email: sheilamschmutz@gmail.com

Jenine Yuzik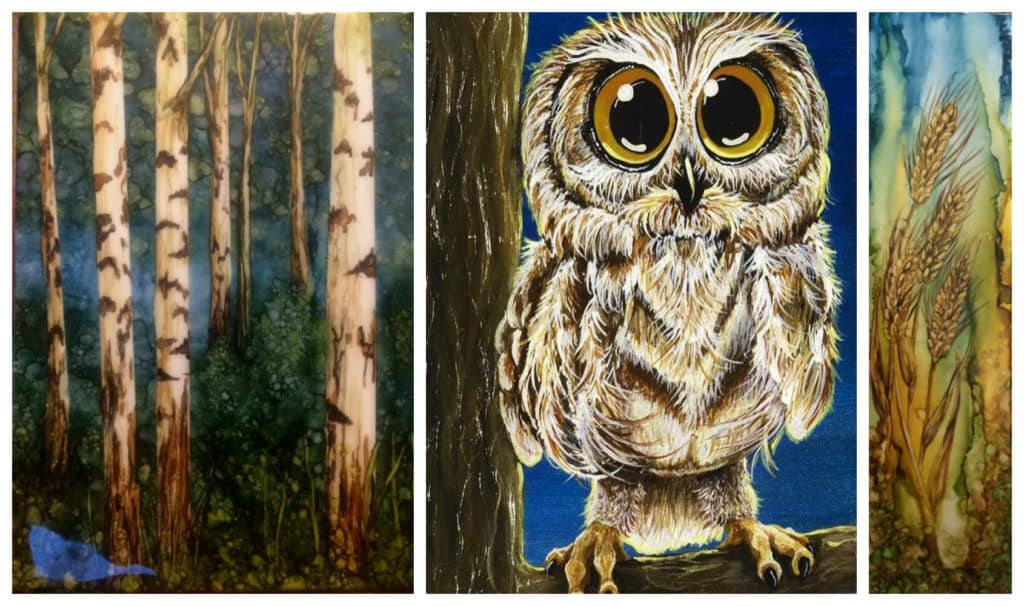 Saskatoon artist Jenine Yuzik has been bringing her imagination to life through art for over 30 years. Her company is Dabble Diva Art, aptly named as she is forever dabbling in numerous mediums and techniques. She is currently working in Alcohol Inks and has recently established 'Jinks!', her line of original wearable art jewelry. Alongside her retail work, she continues to do custom work and wall murals. She is a full time school teacher and a part time artist.
Be sure to follow Dabble Diva Art on Facebook and Instagram for the newest art release updates.
Email: jyuzik@sasktel.net
Facebook: Dabble Diva Artworks
Instagram: @dabbledivaart_jenineyuzik