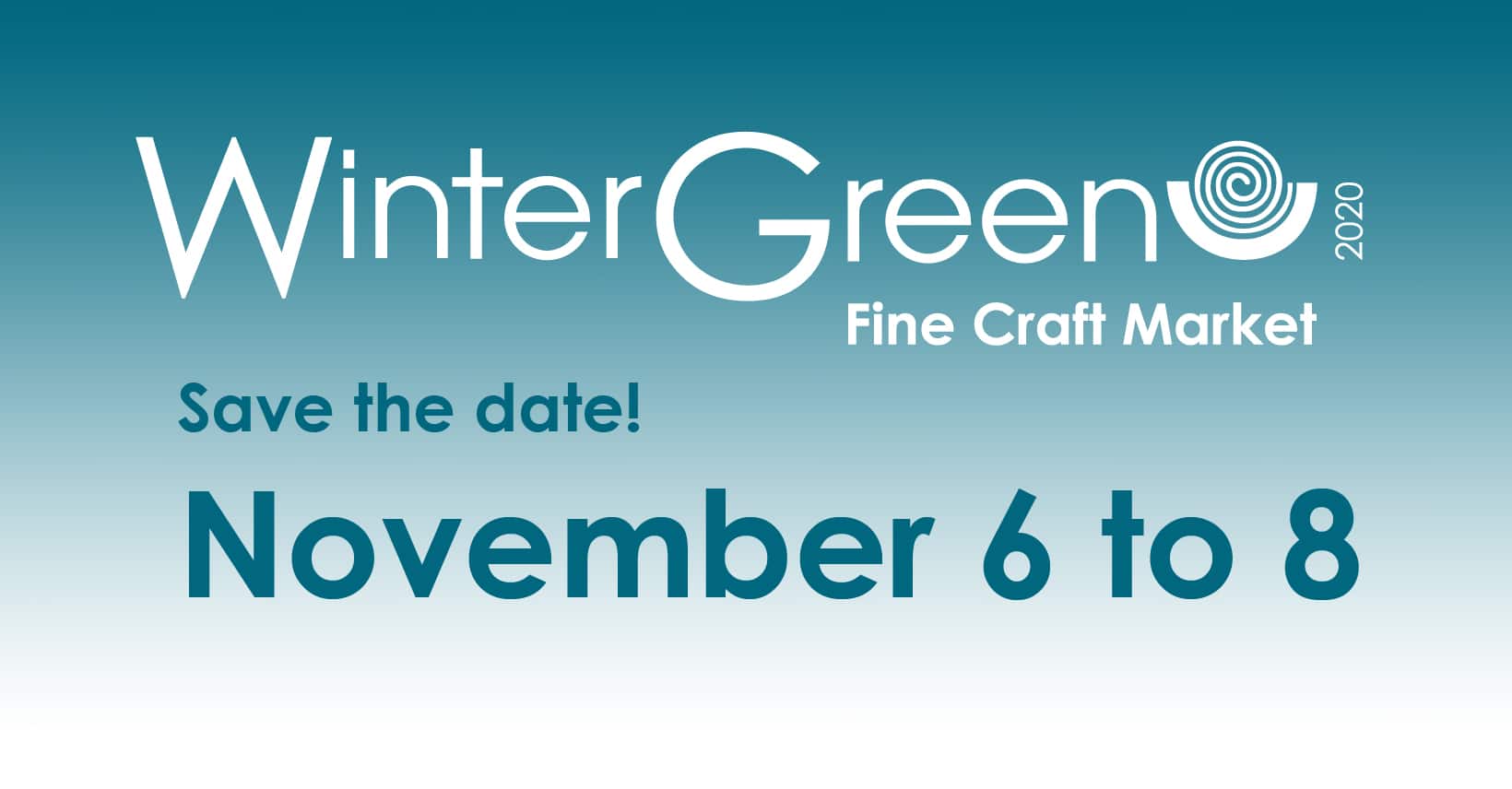 LOCATION
Conexus Arts Centre
200 Lakeshore Drive
Regina, SK
HOURS
Friday, November 6 • 1 – 9 pm
Saturday, November 7 • 10 am – 6 pm
Sunday, November 8 • 10 am – 4 pm
ADMISSION
Adults (12+) • $5
Children (<12) • Free
CALL FOR MARKETERS APPLICATION
APPLICATIONS NOW OPEN
45th ANNUAL WINTERGREEN FINE CRAFT MARKET
DEADLINE EXTENDED JUNE 29, 2020
The call for applications for WinterGreen 2020 is now open. The SCC remains positive and hopeful that WinterGreen will happen, when Covid-19 is no longer a health concern. This application call will help us gauge your interest in attending WinterGreen if we get the go-ahead to proceed. Please note – if the event is cancelled your deposit will be refunded.
Application LINKS
Professional Marketer: https://forms.gle/dy1fMxGR3ytL5Y39A
Emerging Marketer: https://forms.gle/E2CYAkHKZfsY5GJ6A
Saskatchewan Craft Council's WinterGreen Fine Craft Market is back November 6th to 8th at the Conexus Arts Centre! Featuring thousands of hand-crafted works by new and returning local artists, WinterGreen is a holiday craft market not to be missed!
Our artists' work is skillfully constructed and finished. There are no ready-made kits or assembly-line pieces here! WinterGreen features only authentic, handmade, local craft. SCC markets have set a standard of superior quality that is recognized across the country. We guarantee purchasers at WinterGreen will walk away with truly original, handcrafted artwork.
The market will feature over 70 artists selling gifts of every description, including traditional and contemporary works in clay, photography, sculpture, fibre, wood, jewellery, and glass. 
NEW DATES
Please note that WinterGreen is one week earlier than usual this year! Don't miss out: make sure to mark November 6th to 8th on your calendar!
A sampling of  last year's WinterGreen 2019 artists. Check back here closer to the date to see works from the 2020 artists!