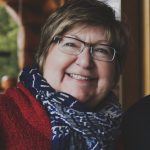 Brenda Wolf is a multi-media artist living in Regina, Saskatchewan. In 2008, she fell in love with clay after visiting the University of Regina Ceramics studio. Taking basic pottery classes in both wheel throwing and hand building, she eventually set up a small studio in her home. Brenda's first works were contemporary functional ware. With these pieces she experimented in various surface design methods, underglazes and clay mediums. A self-proclaimed "messy thrower," Brenda particularly loved the tactile characteristics of clay which allowed for unique hand built pieces, namely her "Jarheads."
Brenda began working in paper, specifically European florist crepe paper, after her daughter requested paper flowers for her wedding in 2013. After much research and experimentation, she's created her own techniques and continues to push the limits shaping crepe into realistic pistils, petals, buds, and leaves.
Her latest work cleverly combines clay fruits and vegetables with crepe paper stems, leaves and floral blossoms. The "produce" is made by pinching little pots to form fruits and vegetable shapes to be further textured and sculpted by hand. She's continuously developing surface colouring techniques to add depth and life to her pieces. Brenda's inspiration for these pieces come from her bountiful vegetable garden on the farm and fond memories in gardens of her parents and Grandmother. Accepted into the CARFAC mentorship program in 2012, Brenda worked under the tutorship of her mentor Monica DeCampo. That same year she was invited to WinterGreen Fine Craft Market as an Emerging Artist. Brenda has participated in a number of workshops with renowned ceramic artists; porcelain with Antoinette Badenhorst and Japanese inlaid clay (Mishima) with Diana Fayt. She's had opportunity to attend workshops with local artists including Carole Epp, Monica DeCampo, Jeffrey Taylor, and Sarah Pike. In 2015, Brenda exhibited her show "Woodland" at Traditions Hand Craft Gallery.
Gallery Representation:
Memberships: