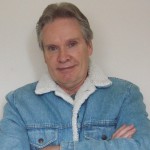 Gary Greer is an award winning Saskatchewan knife maker who creates working blades, period pieces, and fantasy knives. His lifelong interest in design and fabrication have lead him from antique furniture repair and refinishing, to stained glass, and eventually to knife making. The mating of new materials and innovative ideas in a functional yet attractive object is a passion for Gary.
In relative terms, he thinks of himself as more of a craftsman than an artist. The initial ideas and subsequent designs are the artistic part of the process. The bigger picture for him is that of a craftsman — where discovering, then implementing, new innovative ideas and construction techniques are the rewarding part of being a craftsman/artist.
He makes each piece uniquely different by using a variety of elements and materials to create images that can represent the past, present, or the future.