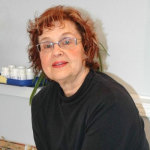 Gwen was born and raised in Saskatchewan. After moving to Halifax, Nova Scotia, in the 1980s, she attended an evening class at Nova Scotia College of Art & Design to learn "Painting on Silk." The bright colours of the dyes and the shimmer of the silk drew Gwen to this form of craft. From that point on, Gwen was "hooked"!
Over the years Gwen participated in juried craft markets in Nova Scotia, and in Saskatchewan, beginning in the 1990s. Her handpainted silk scarves, pillows, and wall hangings will brighten your ensemble or home decor.
In 1995, Gwen obtained her Bachelor of Fine Arts degree from the University of Regina. Gwen now lives in Dartmouth, NS.
Gallery Representation:
SCC Fine Craft Boutique
, Saskatoon, SK
Traditions Handcraft Gallery
, Regina, SK
Handmade House
, Saskatoon, SK
Royal Saskatchewan Museum Shop
, Regina, SK
Mendel Art Gallery Gift Shop
, Saskatoon, SK