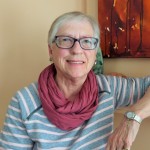 Creating sacred space is Helen's goal as she moves through stages in her life: wife to grandmother, piano teacher to clergy, poet to painter and sculptor. A spiritual focus overflows from these life experiences. Abstraction in her soapstone sculptures express the freedom she enjoys retired in Saskatchewan.
Helen's abstract and semi-abstract carvings express the personality of each stone, enhance the stone's natural colouration, and expand the viewers' imagination. All her designs illustrate the spirit of hope.
Helen continually expands her artistic horizons as she views galleries, attends workshops and participates in OSAC juried competitions. She completed her studies through USCAD, the University of Saskatchewan Certificate and Design program, in 2015 with a major in soapstone carving. Her mentor is Les Potter.
Her sculptures have been exhibited at the following: Artisan Fine Craft Market, Saskatoon; Langenburg OSAC competition; Watrous and Area OSAC show; Spirit of Manitou Studio Trail; Gallery on 3rd, Watrous; Mendel Art Gallery Members Show and Sale, Saskatoon; Gordon Snelgrove Gallery, Saskatoon; and various locations in Watrous, SK.
CONTACT
Address: Box 1252, Watrous, SK SOK 4TO
Phone: 306.946.2361