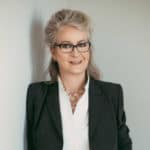 Kathleen O'Grady is a textile and fibre artist and clothing designer who grew up in Saskatchewan and has traveled extensively. Kathleen received training in clothing and surface design at Capilano Community College and Vancouver Community College, both in Vancouver, and at the University of Washington in Seattle.
In the 1980s, Kathleen lived in Greece for a year and in Japan for two years. While in Japan, she fell in love with indigo-dyed textiles. In recent years, Kathleen has traveled in Southeast Asia, India, and Africa seeking out naturally dyed textiles and learning about the people who make them and the techniques they use. In Laos, she participated in a 3-day intensive workshop dying silk with natural dyes.
After living in Seattle for 12 years, Kathleen returned to Saskatoon in 2010. She is focusing on establishing her clothing line incorporating naturally dyed fabrics as well as bringing beautiful textiles from Asia to the people of Saskatchewan.