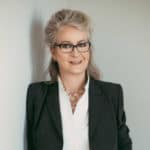 ​Kathleen O'Grady is a Saskatoon-based clothing designer and textile artist. She has been working and designing with textiles for more than 40 years. Kathleen creates one-of-a-kind pieces and small collections with an emphasis on quality craftsmanship, devoting great care and attention to each part of the design process. Combining old-world sensibilities with contemporary design, she creates garments that have timeless and enduring appeal. Found and naturally dyed fabrics add accents to one-of-a-kind pieces. Her work with natural dyes including a line of naturally dyed scarves explores an infinite palette of colour, as she creates and discovers nuance and variation with each encounter of the dye vat. Along with natural dyes, she incorporates screen printing and hand embroidery.
Her extensive travels in Southeast Asia, Japan, India, and Africa have given her an appreciation of textile traditions from around the world. In the mid-1980's Kathleen lived in Greece for a year and Japan for two years. Kathleen understands textile as legacy, giving context to the importance of heritage, tradition and community. She recognizes the impact of globalization on traditional craft communities and the need to bring greater awareness of the living legacy these communities represent.
Her work, "Perseverance," was featured at Saskatchewan Craft Council's 2020 From Scratch exhibition. The work incorporates scraps from the cutting room floor, given new life as they are transformed "from scratch" into a wearable statement piece. In the making of this work, Kathleen has pursued a long-time calling to deepen her work in textile surface design using printing, applique and Japanese hand stitching (sashiko) with natural dyes.
Kathleen received training in fashion and surface design at Vancouver Community College, Capilano Community College, the University of Washington, Pratt Fine Arts Center and the University of Oregon. She trained in natural dye techniques at workshops led by world-renowned instructors in Vientiane, Laos; Oakland, California; Seattle, Washington; Eugene, Oregon; and Vancouver, Canada, including Aboubakar Fofana (Mali), Michel Garcia (France), Charlotte Kwon (Canada), Joan Morris (USA), Michelle Wipplinger (USA) and Gasali Adeyamo (Nigeria/USA).