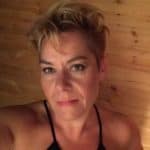 Toby's glass journey began with learning and experimenting with the many challenging and exciting techniques available, exploring the many colours, textures and reflective qualities of glass which add expression and vitality as it dances with the light.
She was most influenced by large stained glass painted pieces found in churches and these large, beautiful historic pieces left her in a state of wonderment. The intent of most of these pieces told stories, rich in detail like the crafting of the windows themselves. She enjoys working with the medium as it has the ability to affect different moods in different light, reverse painting on clear glass tiles and using glass powders and frits, to incorporate texture and patterns. An understanding of the creative process comes full circle with her initial inspiration, to tell stories in her particular style, evoking memories and experiences.
Comprised of traditional rug hooking, embroidery, knitting and sewing, Toby finds her work in textile arts very meditative. She finds rug hooking an outlet for expression in the designing and the technical work. Learning the basics of knitting with her grandmother, and sewing with her mother, she  learned to macrame, embroider and hook rugs using the traditional tools, wools, and foundation cloths. 
Her first textile works were mainly traditional primitives, and abstract landscapes, and she has gravitated toward portraiture pieces based on her own collection of personal photographs. She designs her own work, and color plans her pieces through watercolour painting. She often hand-dyes her wools from botanicals and plants and designs patterns for beaded knitting and knitting patterns. 
In 2019, her hooked rug  'Capilano' was accepted into the Dimension 2019 Exhibition and won the 'Excellence in Textiles' award,  
In 2019, she exhibited at Sauder Village Rug Week in Ohio in August, 2019. 
In 2018, she won Best in Show and 1st Place in the  Rug Hooking category at the Focus on Fibre Biennial show for her piece entitled 'Sinking Like A Sunset' 
In 2016, she won 2nd Place for 'River Spirit' and 3rd Place for her entry 'We Used To Play Outside'
In 2012, Saskatoon Glass Workers Guild Show:  Random Acts of Light at Saskatoon Craft Council Gallery 
In 2016, Saskatoon Glass Workers Guild Show: Colour Outside the Lines  at Saskatoon Craft Council Gallery 
She is part of the annual exhibition for the Saskatoon Glass Workers Guild show 'GlassArt' @ The Galleria
She has completed church commissions for stained glass panels throughout Saskatchewan, taught stained glass classes and participated in local gallery art shows. Her work is available for sale at the Borealis Boutique Etsy store, at the Saskatchewan Craft Council Boutique, and Black Fox Farm & Distillery.
CONTACT
Borealis Boutique
Retail Representation:

SCC Fine Craft Boutique, Saskatoon, SK
Black Fox Farm & Distillery, Saskatoon, SK
Permanent Installed Works: 
Shrine of Our Lady of LaSallette, Forget, SK
St. Paul's Lutheran Church, Saskatoon, SK
Memberships:
Saskatoon Glassworkers' Guild
Canada Council of the Arts
Surface Design Association
Saskatoon Spinners and Weavers Guild
Focus on Fibre Arts Association
Saskatoon Writers Collective