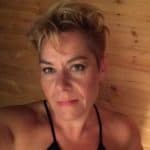 I was most influenced by large stained glass painted pieces found in churches and the large looming beautiful pieces left me in a state of wonderment. Most told stories, rich in detail like the glass pieces themselves.
Working with the fluidity of glass is both peaceful and calming, affording me the ability to express an artistic vision in a myriad of ways. Exploring the many textures and colours through glass as it dances with the light, transforming the materials into an expressive vision. It is rewarding for me to attempt to reinterpret and replicate a moment in glass.
The light, the texture and the reflective qualities of glass add expression and vitality to a creative vision, inspiring the flow from a design to a finished piece. I chose glass because I enjoy working with the medium, which creates a mood with the light and the time of day it is viewed. It can be brilliant or muted, depicting shadows and often has the ability to appear differently. My purpose or motive is to give the viewer an understanding of my creative process and the basis of the finished piece. I hope people can connect with my work and enjoy it, to evoke memories for them and their experiences, appreciating the glass work in my particular style.
I have completed several church commissions for stained glass panels in Saskatchewan. I have taught several stained glass classes and have participated in a number of art shows in local galleries, as well as shows, sales and festivals.
CONTACT
Borealis Boutique
Gallery/Retail Representation:
Black Fox Farm & Distillery, Saskatoon, SK
Shrine of Our Lady of LaSallette, Forget, SK
St. Paul's Lutheran Church, Saskatoon, SK
Memberships:
Saskatoon Spinners and Weavers Guild
Focus on Fibre Arts Association